4 Ways to Win Elections with Political Campaign Merchandise
published: October 31, 2019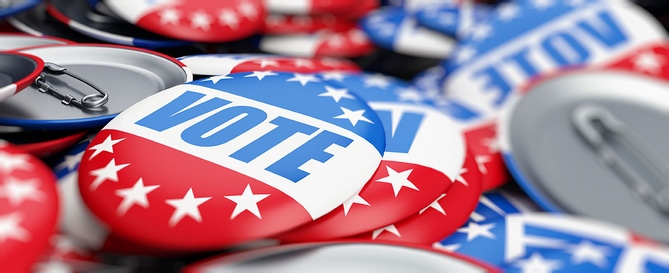 The first known use of promotional products in the United States tracks back to 1789 when George Washington used commemorative buttons when he was elected president. Promotional products and elections have a long history and since they are still being used in elections today, you can tell they are powerful. Since 2020 is a presidential election year, political promotional products will be popular throughout the year leading up to the big day. If you or your business is supporting or participating in a political campaign this year, whether it is spreading awareness for a candidate, advocating for people to go out and vote or educating the community on election information, promotional products can help you support your efforts.
How can you Use Promotional Products during Election Years?
Spread Awareness
Early in the campaign cycle, awareness and education are important. People cannot vote for a candidate if they do not know who they are. Whether your candidate is presidential or on the state local level, promotional products can help you get the word out.
Buttons, lapel pins and bumper stickers are great essentials that will drive name recognition for your candidate. Banners, signs and table throws can help you provide information and core message points at political events and rallies. Red, white and blue patriotic hand fans in generic, republican elephant democrat donkey shapes can be customized with your candidate's name and slogan to create a camera ready rally staple. Embroidered caps and hats are a classic and effective way to spread awareness for your candidate everywhere you your supporters go. Yard signs let drivers know how much support your candidate has in your area.
Fundraise
Another essential process in the campaign cycle is fundraising. When it comes to a political campaign, there is always more that you can do to get your name out there and raising funds can make or break your campaign. All the front-runners in presidential elections have their own creative promotional merchandise available for purchase. You don't have to be running for president to have your own merchandise available for sale. Apparel, coffee mugs, and tote bags can be customized with your slogan, message or name and be sold to help you raise money. The bonus of using promotional merchandise for fundraising is that it allows your supporters to further share your name and what you stand for.
Thank Your Donors & Volunteers
Candidates can use promotional items to recognize and thank their donors. Donor recognition gifts can be something simple such as a note of appreciation placed inside a quality folder with other information about upcoming events or more information about your campaign. Promotional pens, calendars, and stickers are a simple but memorable thank you. Thank your volunteers for all their hard work with patriotic, elephant or donkey shaped stress balls.
Get Voters to the Polls
The most important part of any election is getting voters to the polls. Using fun giveaways is a great way to get the community hyped up about voting. Early in the year, you can use exciting giveaways to encourage people to register to vote and educate them on the importance of voter registration.
Once Election Day gets closer, you can then use those fun giveaways again to entice people to go out and vote. Hand out giveaways at schools, shopping centers and other public spaces that encourage people to go out and vote.
Voting is important for everyone, so offering an enticing reward to those who go out and vote is something that any business can take advantage of without having to get specific about party affiliation or personal political opinions. If you are looking for a way to get people into your store, use Election Day as an incentive. Offer a promotional giveaway to all of those who can prove that they went out and voted. For example, promote that if customers come into their store front after voting and show their "I Voted" sticker, they get a free reusable shopping tote bag.
These are just a few ideas for how you can show your support for a candidate, educate and get people to the polls this year.
For insight on designing customized campaign merchandise, check out the results of our poll on the logos of 2020 presidential candidates.