Back to the Office — How to Create Healthy, Safe Workplaces
published: August 27, 2020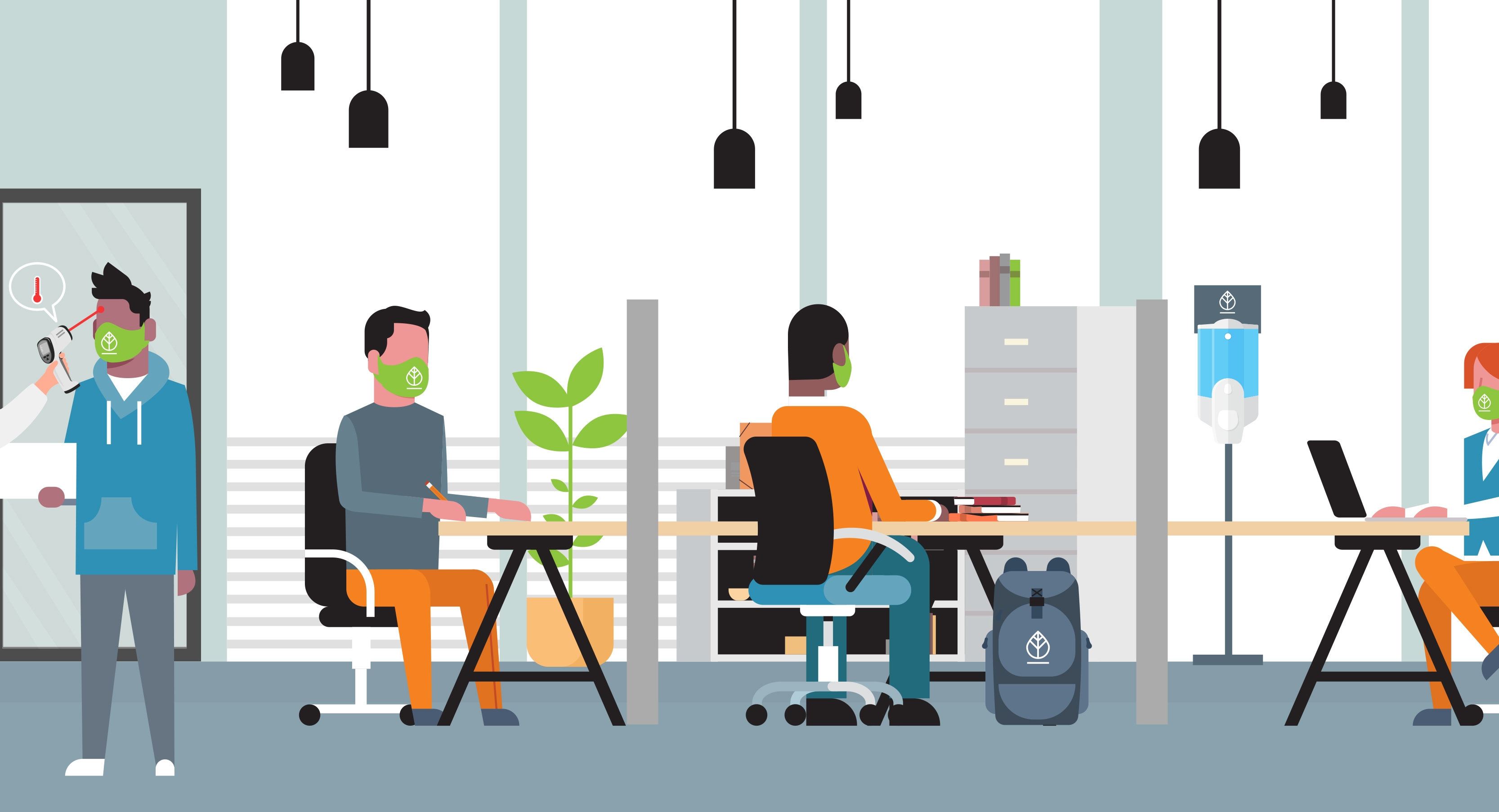 Across the country, businesses of all sizes are in the process of reopening after the severe COVID shutdowns earlier in the year. Obviously, it's critically important economically for offices to reopen, but to increase the likelihood of staying open, creating a safe workplace is essential. OSHA has published detailed guidelines for going back to the office, which include PPE (Personal Protective Equipment) and related recommendations that touch on many of the promotional products offered by Bank Express.
In this article, we'll review a broad sampling of these products. Not only will these items help you create a safer workplace, they will also broadcast the powerful brand message that your business is committed to health and wellness. All positive brand messages have value, but in this time of COVID, health and wellness has a greater impact than ever before on a company's ability to retain and engage employees, satisfy customers and attract new customers. Bank Express is proud to be able to help!
Promotional Products for Office Re-Openings
Face Masks for Staff and Visitors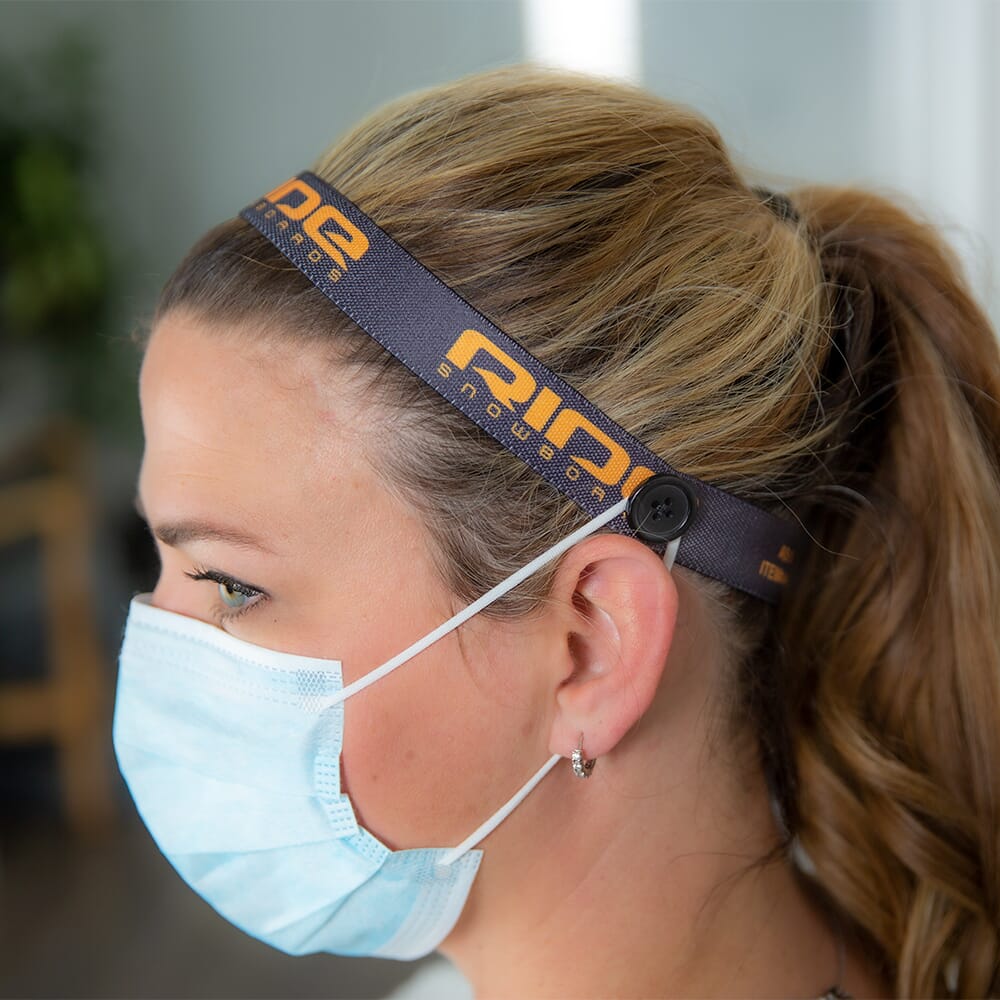 Our selection of logo face masks is enormous. Two of the most popular items are the comfortable cotton Reusable Face Mask, and the equally comfortable Reusable Stretch Face Mask, which provides an optimal snug fit.
For an additional impact, consider face mask accessories such as the Ear Saver and Mask Buddy Pro, designed to provide comfort for extended-period mask wearing. To keep masks handy when not being worn, the lanyard-like Mask Keeper and Mask Keeper Pro are the perfect fit. All these logo accessories are terrific examples of how small, simple giveaways can make a big impression.
Social Distancing and Directional Floor Mats and Decals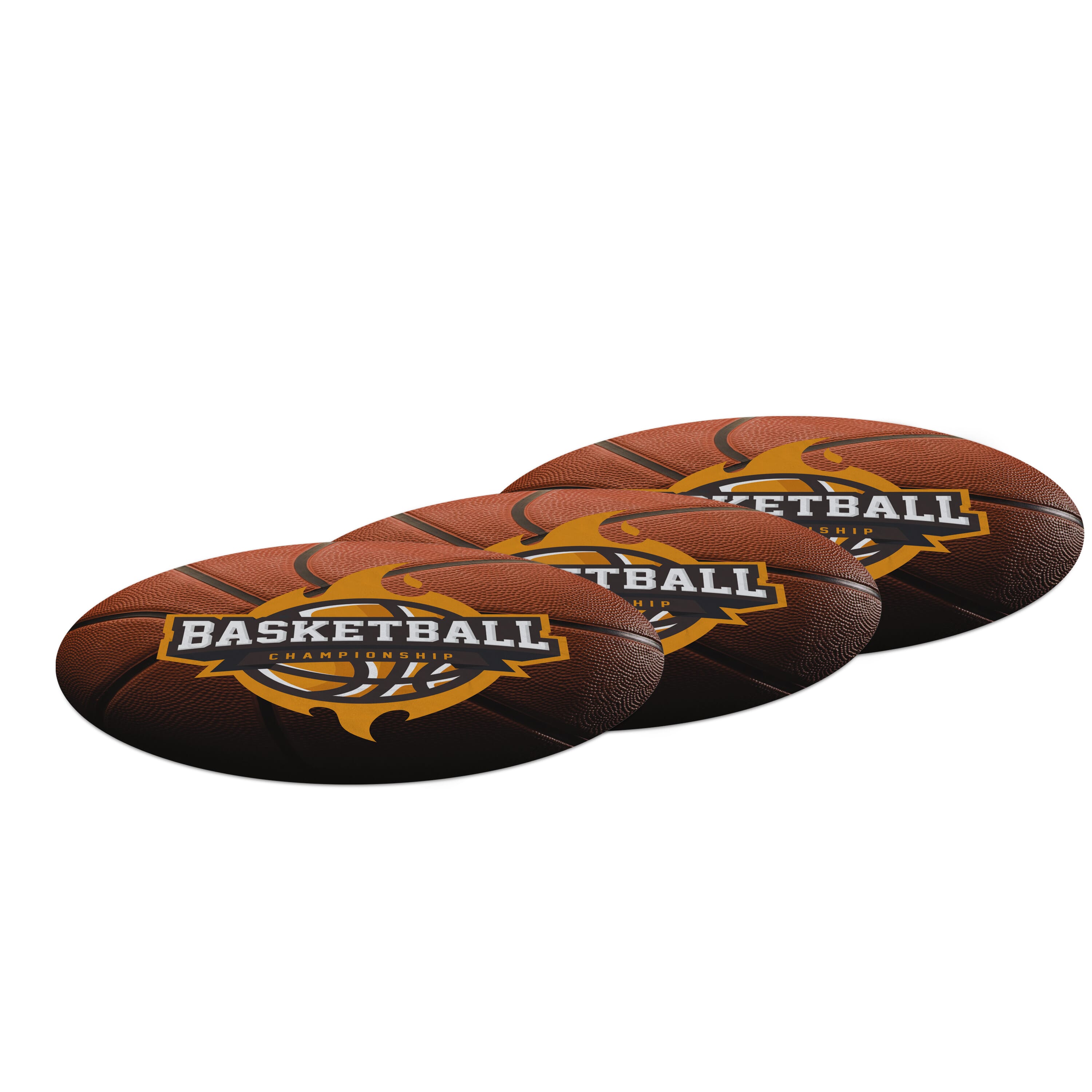 Helping to keep people separated and moving in the right direction is important for health and wellness, but it also makes employees and visitors feel comfortable and engaged rather than worried about doing the wrong thing. Popular items that serve the purpose well: Indoor Surface Grip Circles (for social distancing) and Stay Safe Floor Decals (for traffic flow).
Counter Shields
Counter shields and sneeze guards are quite useful in counter sales and reception areas, in cafeterias, at or between desks, and in other places around the office where people come in close contact. Counter shields are unobtrusive and facilitate easy communication, and many items can display your logo and a safety message. The versatile Protective Barrier Kit and Clear Acrylic and Wood Table Top Sneeze Guard are popular items with designs simple and sophisticated enough for any office space.
Hand Sanitizer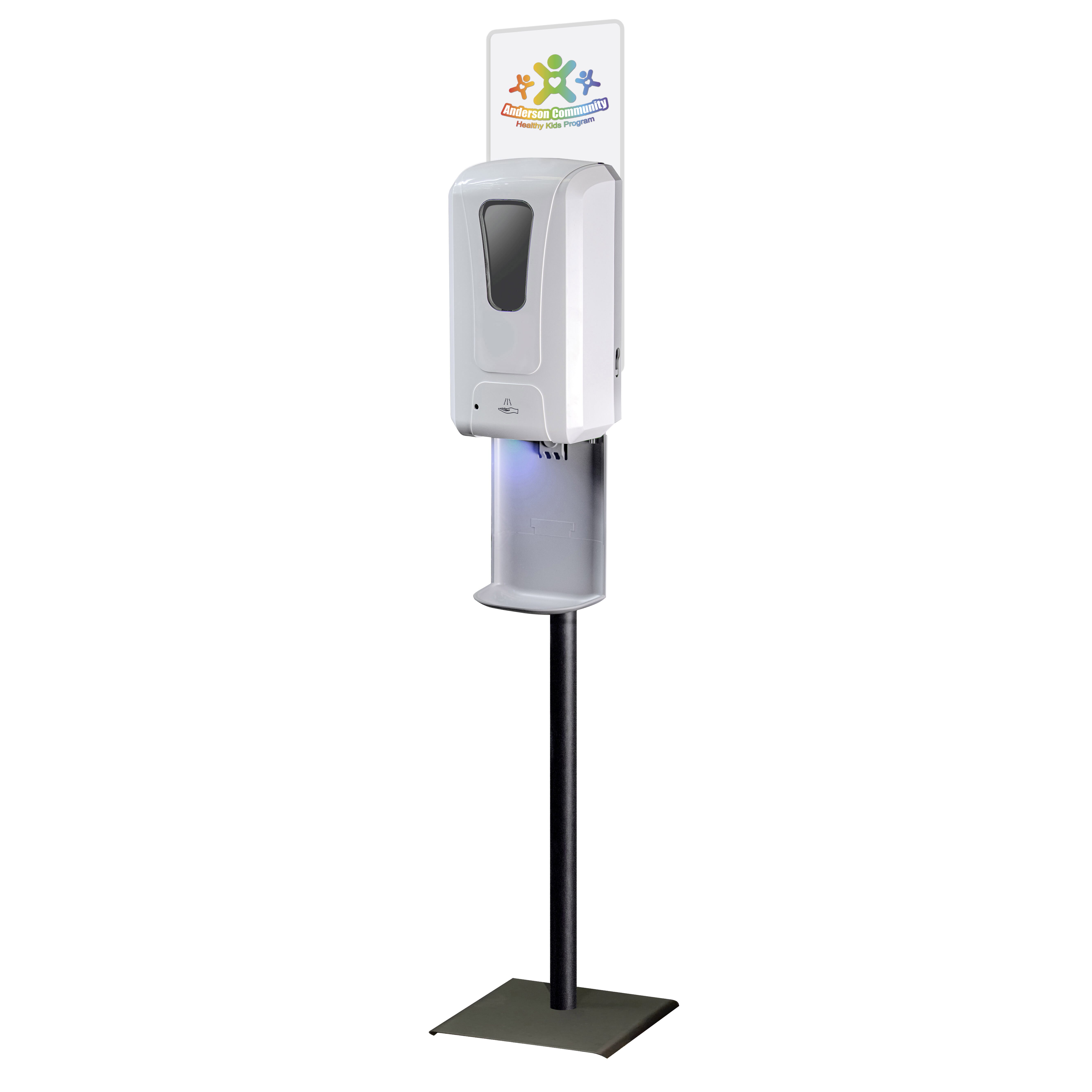 We have many varieties of individual, mini hand sanitizers for desks and travel, as well as a deluxe Sanitizer Station for central use, with a spacious imprint area for your logo and health message.
UV Sterilizing Wands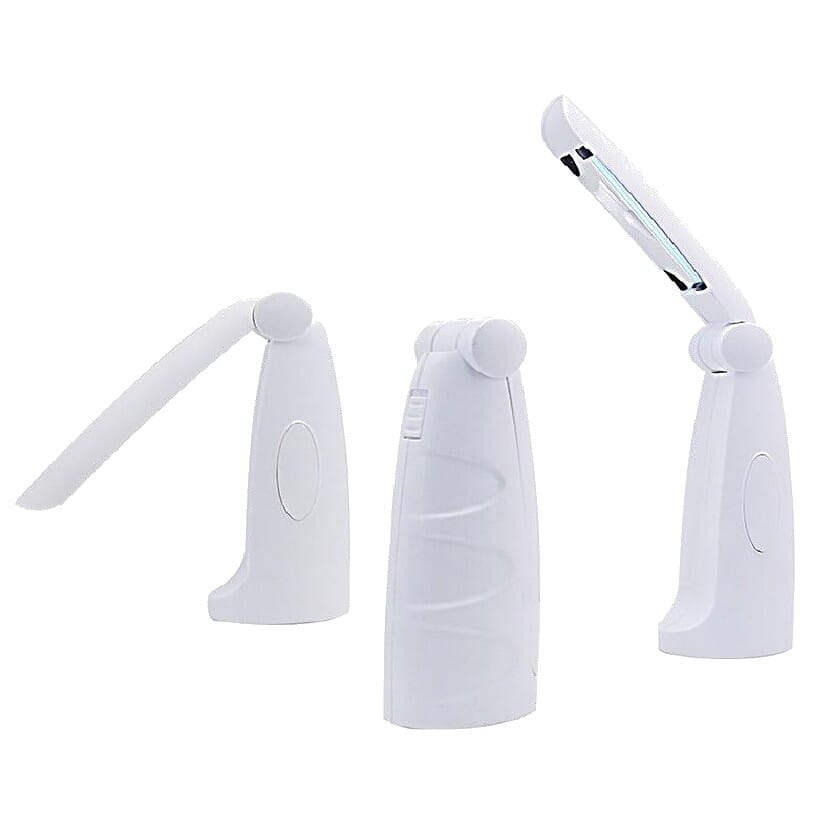 Here's a product nobody knew about less than a year ago, and now one that every office worker won't want to be without! Our UV Light Sterilizer is an easy way to kill germs on chargers, computers, computer peripherals, phones, copy machines, and other "high-touch" office surfaces.
Laptop Bags, Backpacks and Padfolios for Partial Work from Home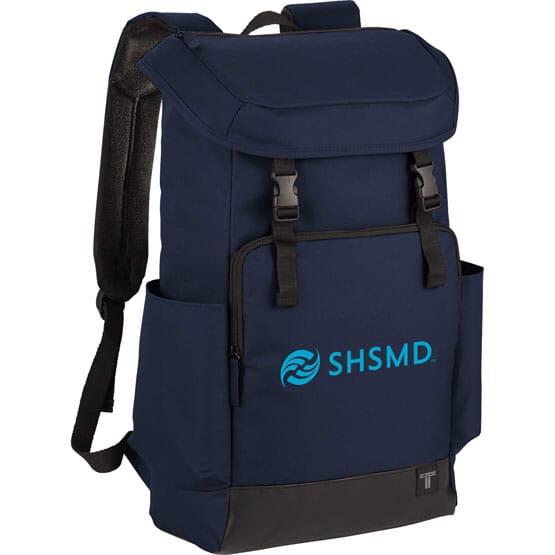 Many companies have discovered through the COVID quarantines that business can be conducted efficiently when workers split time between home and office. Not only that, but employees love the flexibility of working from home, because it's convenient, helps them balance work-life scheduling, and makes for a less crowded and safer office. We have many promotional items that make home-office work easy — For starters, take a look at our Deluxe Computer Backpack, the hardy Laptop Rucksack, the lightweight Laptop Bag, the Exec Brief-Padfolio to keep organized from multiple locations, and the versatile Urban Deluxe Padfolio that's so efficient it practically organizes itself.
Pro promotional tip: Think about bundling. We've got a nearly limitless variety of custom printed office supplies such as pens, calculators, sticky notepads, that make excellent surprise fillers for your backpack or bag.
Antimicrobial Pens & Stylus Pens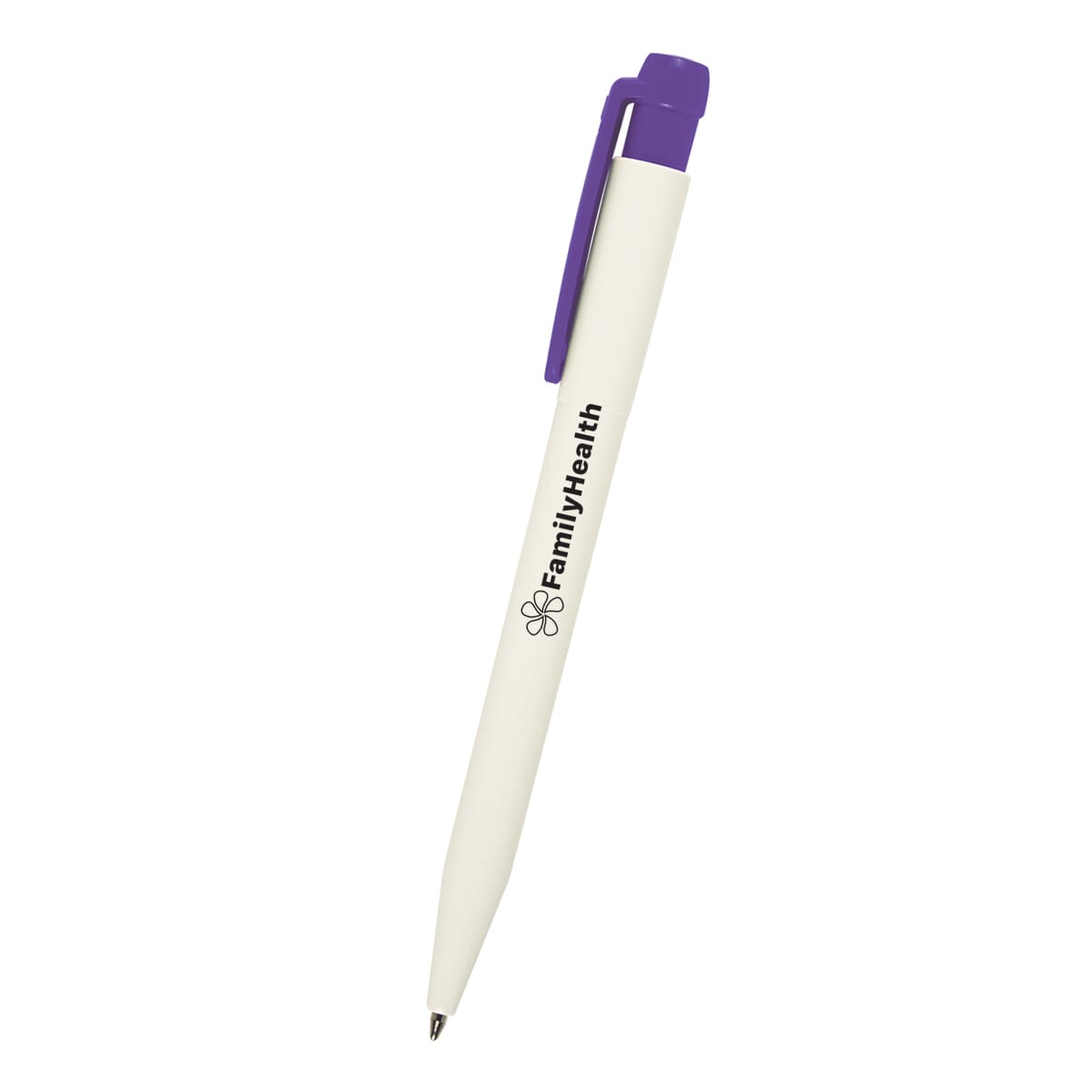 Like sterilizing wands, antimicrobial pens and stylus pens were nearly unheard of in the recent past, and now serve an important purpose for reducing exposure to germs and facilitating low-touch and no-touch document signing, whether on paper or on screens. In addition to these logo items, high-quality traditional pens — perhaps personalized with each employee's name — make for a memorable return-to-the-office gift, and one they will not be likely to share and thereby spread germs!
Thermometers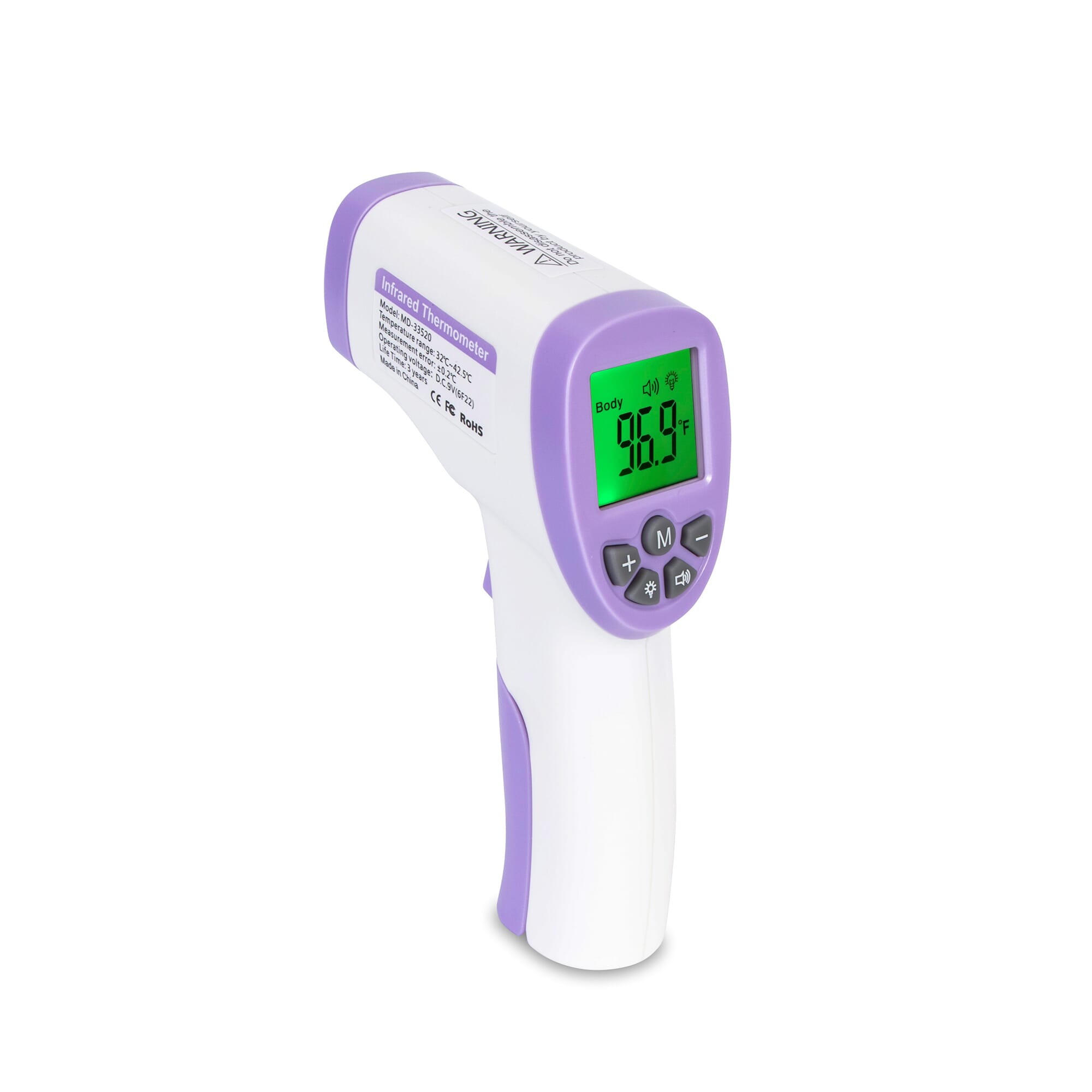 Two popular office items for temperature checking are the logo Reusable Forehead Thermometer and the Non-Contact Infrared Thermometer. The forehead strips are handy for self-monitoring, and the infrared thermometer delivers highly accurate readings for checking employees and guests as they arrive.
Hand Washing Tips and COVID Info Magnets & Brochures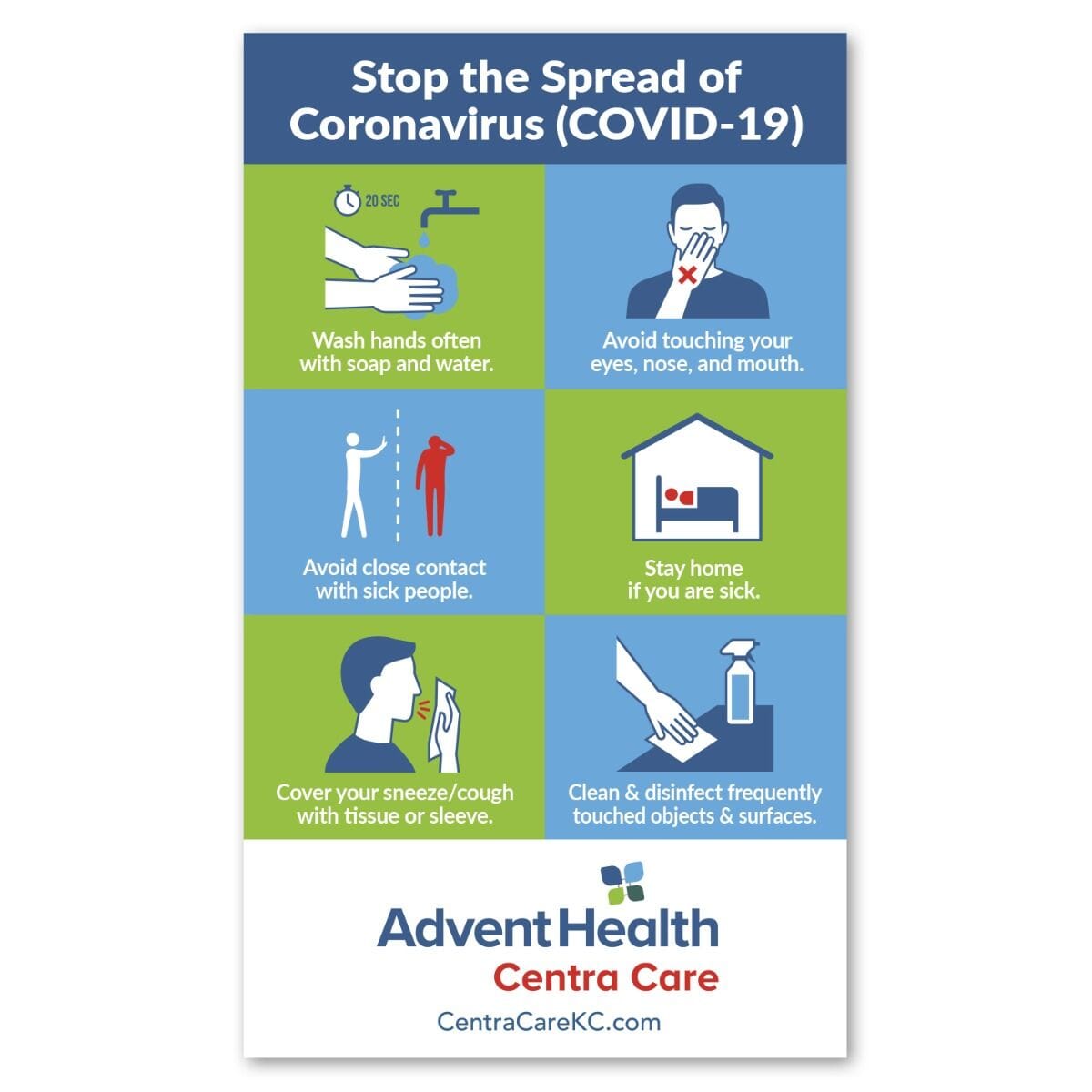 Education plays a major role in creating and sustaining a safe workplace. Every back-to-the-office strategy can make use of our logo educational materials, such as "Stop the spread" information magnets, hand washing tips magnets, "Stop the spread" information door hangers, and the Germ Stopper Pamphlet. All of these logo items serve as gentle reminders and continuously associate your brand with health and wellness.
No Touch Tools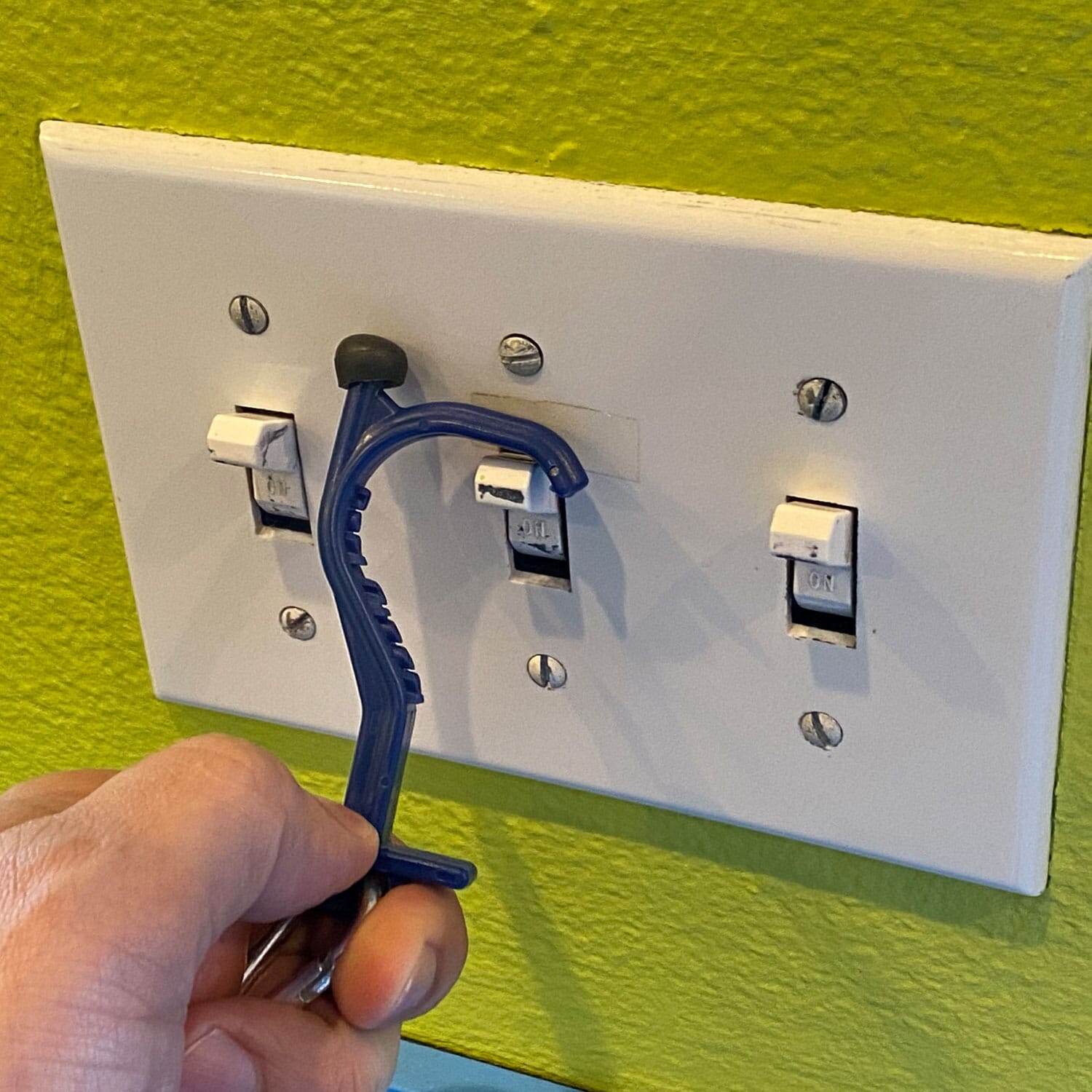 Every employee should have a Kooty Key, a pocket-size, antimicrobial hook that can be used for opening doors, opening cafeteria microwaves, turning faucets and light switches off and on, and dealing with other surfaces that easily get dirty. The versatile Touchtool is a logo item for the same purpose, but fits on a keychain and great for travel. The No Contact Keychain, also printable, is a keychain and touch tool all in one — an excellent giveaway for employees, visitors and customers.
Antimicrobial Mouse Pads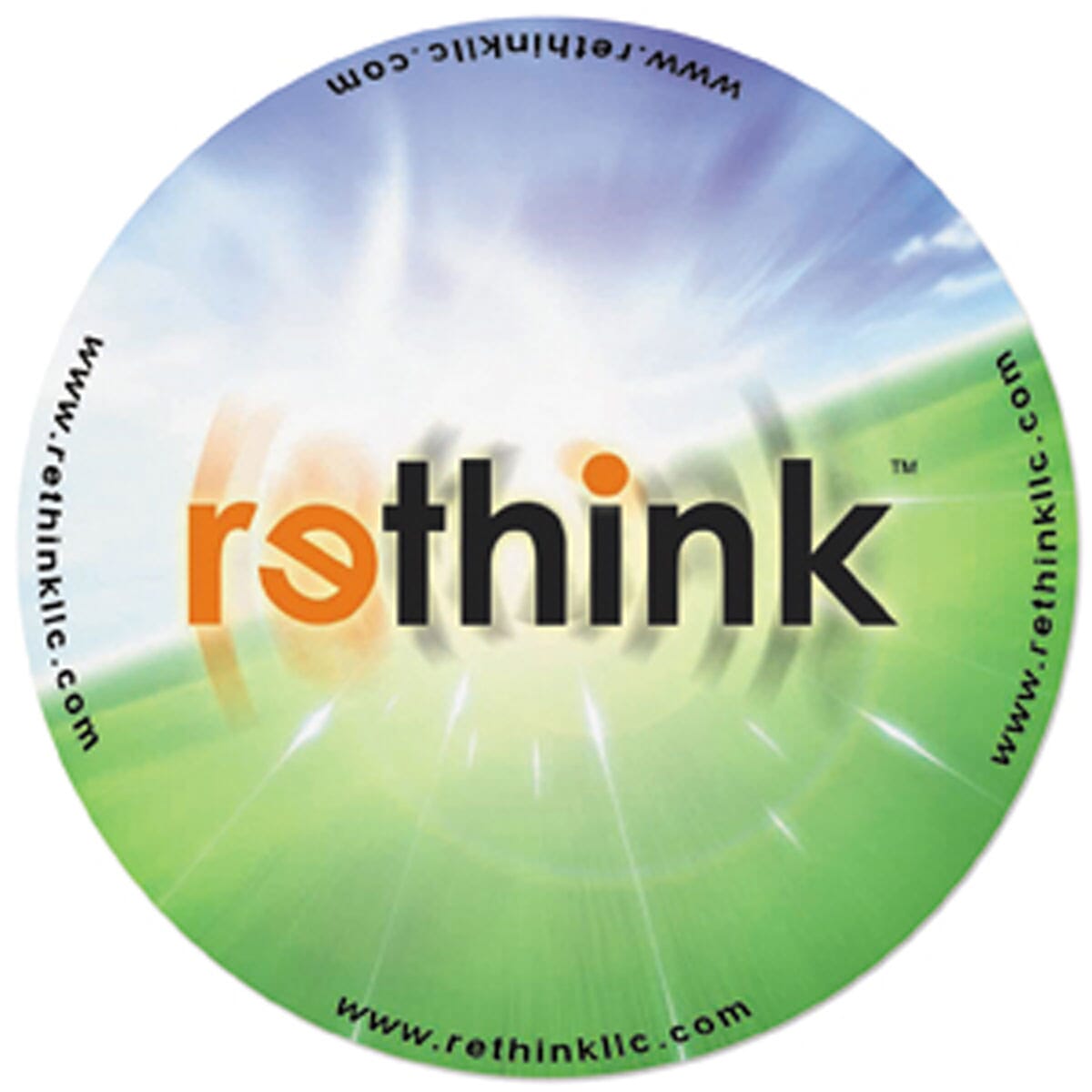 An office wouldn't be an office without mousepads, which makes a round antimicrobial mousepad or a rectangular antimicrobial mousepad an ideal welcome-back gift for every desktop. These mousepads have large imprint areas for branding along with a health and wellness message.
Antimicrobial Badge Reels and Lanyards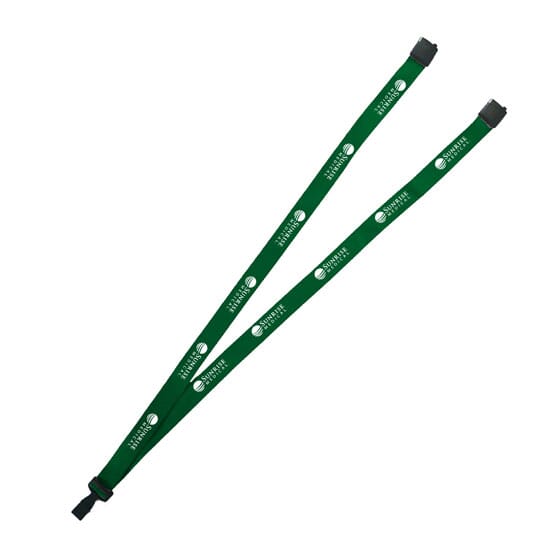 For interoffice meetings, employee identification and guest identification, antimicrobial lanyards and antimicrobial badge reels are an inexpensive but effective way to upgrade safety in the workplace!
Lunch Kits and Lunch Totes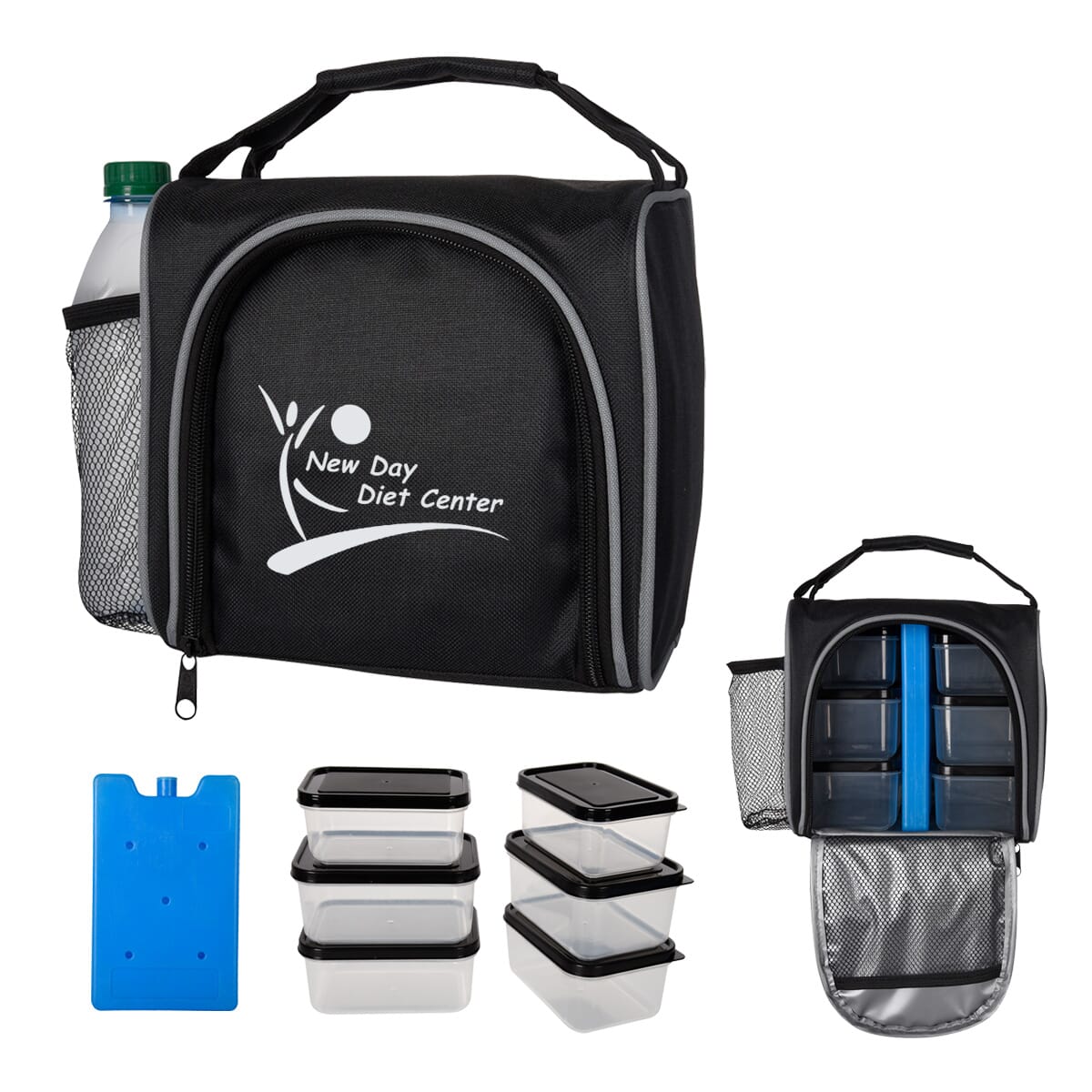 Even lunch totes and kits can play a role in making a safe workplace. Items like our Designer Lunch Bag, Prep & Chill Lunch Cooler, and Non-Woven Lunch Bag have one thing in common: They are easy to clean. They also come in handy when the break room is closed or operating at a reduced capacity.
Need Help?
If you're still searching for the perfect back-to-the-office promotional item, or looking for additional items to round out your workplace safety plan, please contact us now. We have lots of options for PPE and other office items that will help keep everyone confident and motivated.
You may also be interested in: