It's Easy to Show You Care with Custom Swag Bags, Kits & Bundles
published: July 22, 2020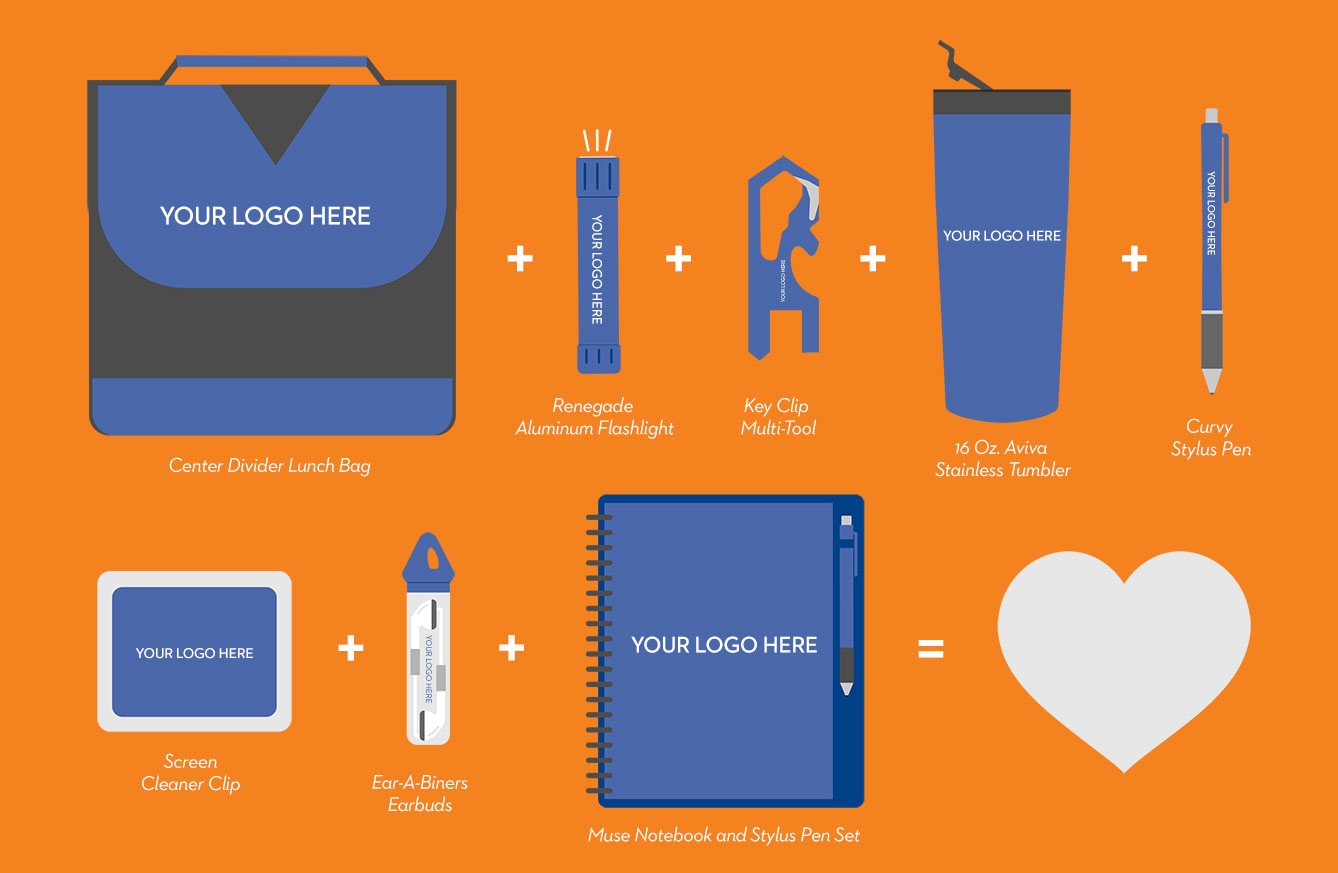 What is a swag bag?
A swag bag is a kit, set or bundle of items all with one organization's logo or one event's art printed on each piece. It's a thoughtful assembly of items meant to be truly useful and spread good will to a particular audience.
If you can't decide which promotional items to give your customers, employees or students, try this approach — Give them everything! Swag bags, kits and bundles combine generous (but affordable) gift-giving with a strong element of surprise. When recipients scour their swag bags to see what's inside, every discovery brings a new smile.
Custom swag bags simplify your work. They're the ultimate in convenience, because Bank Express puts the packages together, saving you the time and trouble of assembling them yourself. We can make it even easier by drop-shipping packages directly to each individual's home — something we're being asked to do now more than ever, especially for work-from-home, or WFH, care packages.
However your logo swag bag is delivered, it is sure to make a statement — a long-lasting, positive impression on prospective clients, customers, business partners, employees and students. These kits and bundles will draw tons of attention and get people talking about your brand at trade shows, meetings, student gatherings and other events.
Swag bags aren't just for group settings, they also work wonderfully for one-to-one recognition and engagement. In this era of working from home and virtual meetings, organizations all over the U.S. are turning to swag bags to promote, energize and show appreciation. Whether you want to give employees a morale boost and make them feel connected with work-from-home care packages, onboard new hires with an employee welcome kit, show appreciation with employee gift sets, or promote your upcoming virtual event with custom kits, Bank Express has options sure to please! Let's take a closer look at the many options we offer.
Types of Custom Swag Bags, Kits & Bundles
Work From Home Kits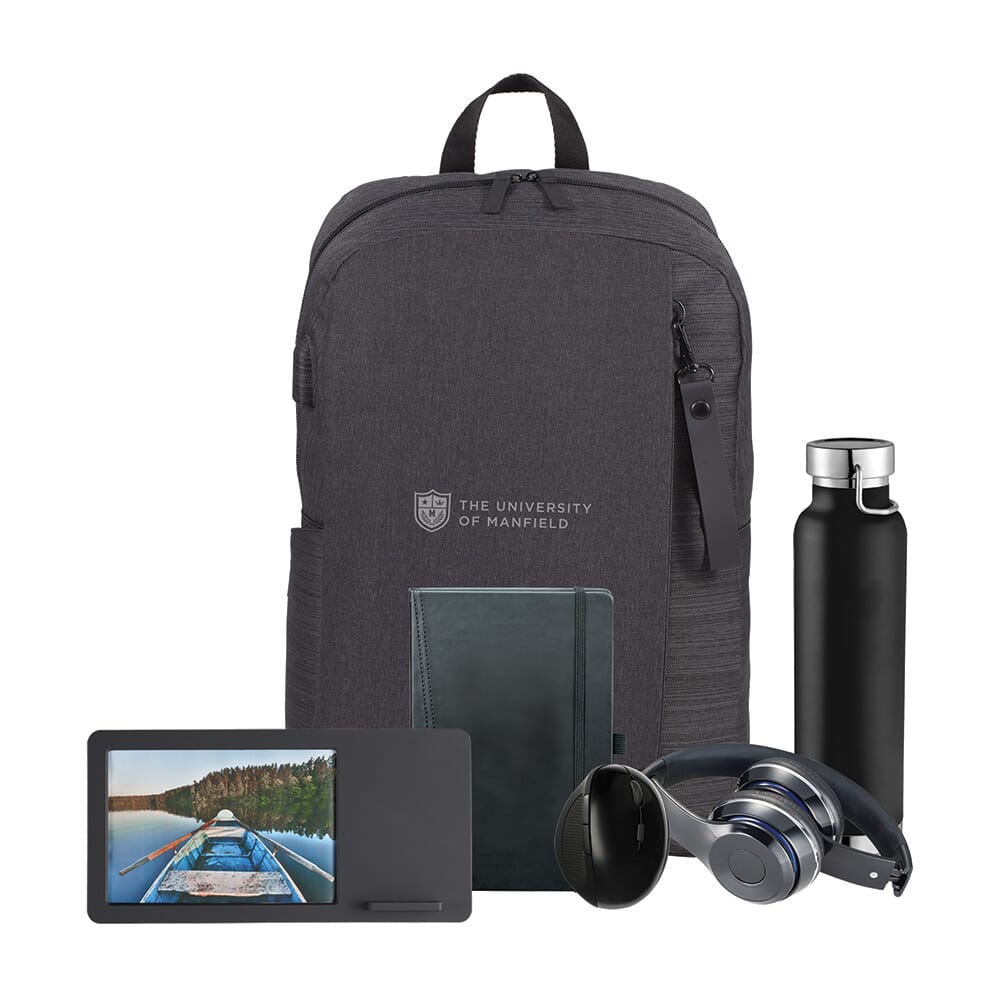 Before COVID-19, about 7 million Americans worked from home. Those ranks have surely swelled during the coronavirus pandemic. Global Workplace Analytics estimates that 25-30% of the workforce will be working-from-home multiple days a week by the end of 2021. To make your WFH employees more efficient and boost engagement, choose from a wide variety of Bank Express work from home packages. Typically, our WFH kits come with a full range of laptop accessories and a backpack, to make officing as easy as possible, wherever they happen to be.
Standout options in the WFH category include our all-business Work from Home Kit, featuring a 3-port USB hub mouse pad, calculator and more; the more playful MopToppers® kit with an impossibly cute phone stand; the Telecommute Kit that helps employees work here, there and everywhere; the Essentials Plus Kit with extras like a 22 oz. insulated tumbler and a heavy duty backpack; and the granddaddy of them all, the Premium Work From Home Essentials backpack kit, featuring Bluetooth® headphones, wireless laptop accessories and much more. Whether your staff is working at home, on a mountain trail or commuting back and forth from the office, they'll appreciate these office supplies sets day in and day out.
Employee Care Packages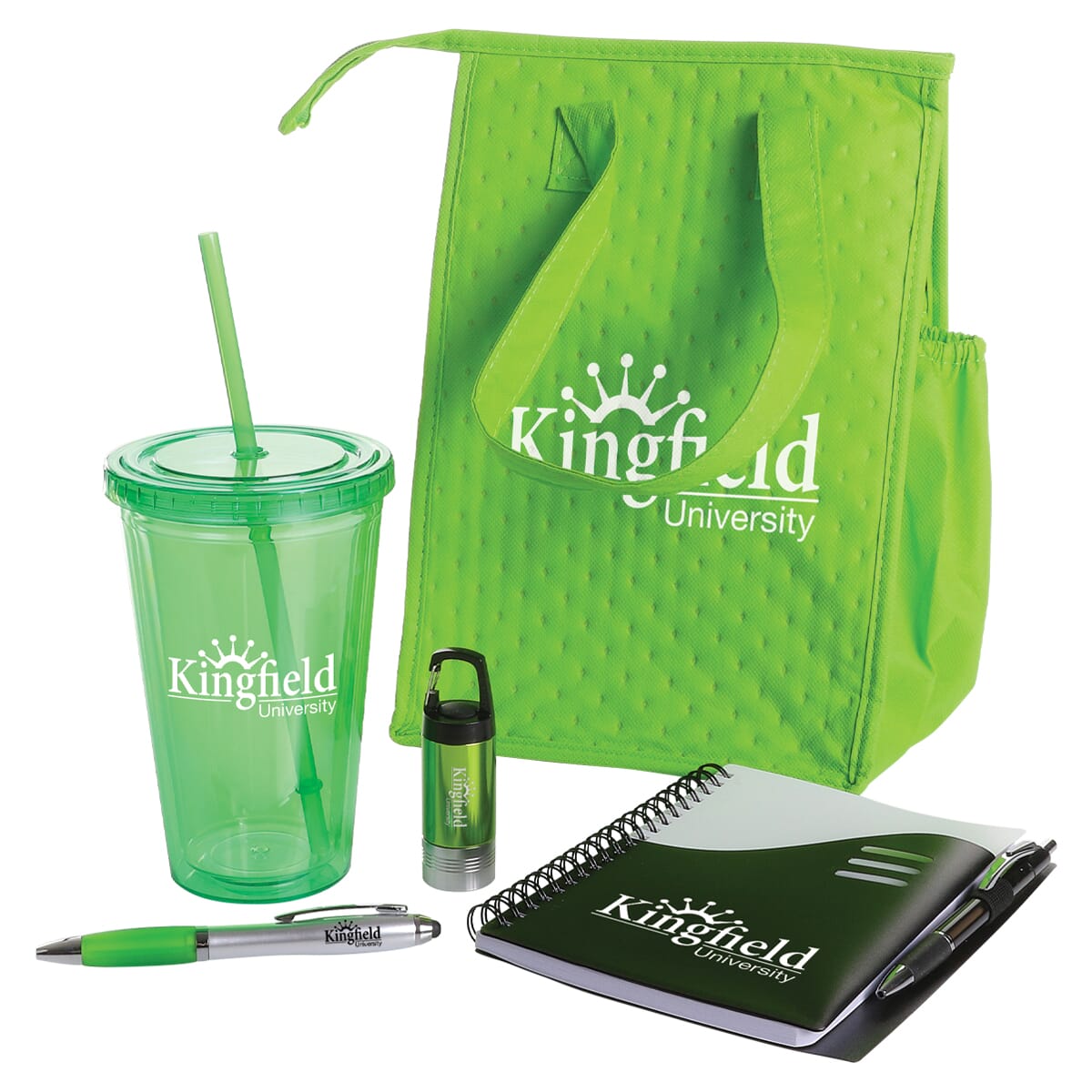 People used to working from home often feel disconnected, and people recently thrust into WFH may feel quite anxious about the new situation. Put employees at ease and keep them positive with a logo imprinted employee care package. Our popular promotional Fantastic Five 2.0 includes a stylish lunch cooler, tumbler, notebook-pen combo, stylus pen and flashlight. Another option sure to keep the doldrums at bay is our Perfect 3 Gift Set, with a matching cooler, tumbler, and notebook, in your choice of six dazzling colors. Get physical with the Workout Kit Gift Set, which comes with a sleek backpack, pedometer and water bottle to make staying in shape more fun! After the workout, help employees relax with the Essential Oil Diffuser Set: seven scents in a linen drawstring pouch. Another gift sure to pan out is the Kitchen Essentials Kit, an elegant canvas bag filled with culinary tools to whet every cook's appetite.
PPE (Personal Protective Equipment) Kits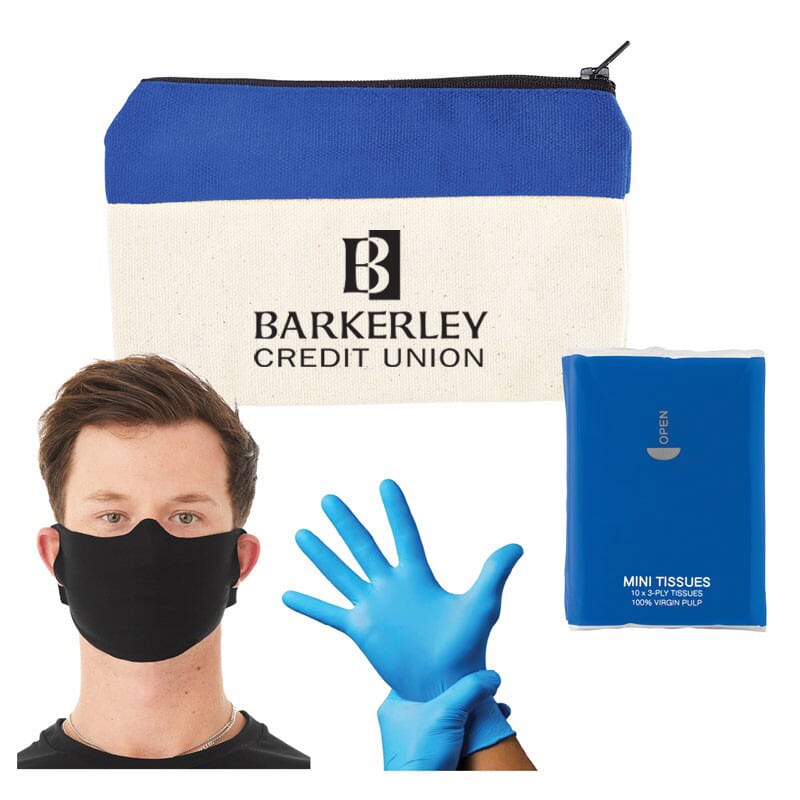 PPE items are a staple at Bank Express because of our many clients in the healthcare industry. Today, PPE has gone mainstream, with items such as face masks and hand sanitizers in high demand for offices, industrial buildings, banks, restaurants, retail stores, government agencies, supermarkets and many other settings. For social engagements, the logo customized Dropping By Kit is sure to open doors, with a cotton/canvas pouch that holds a mask and tissue packet.
Employee Welcome Kits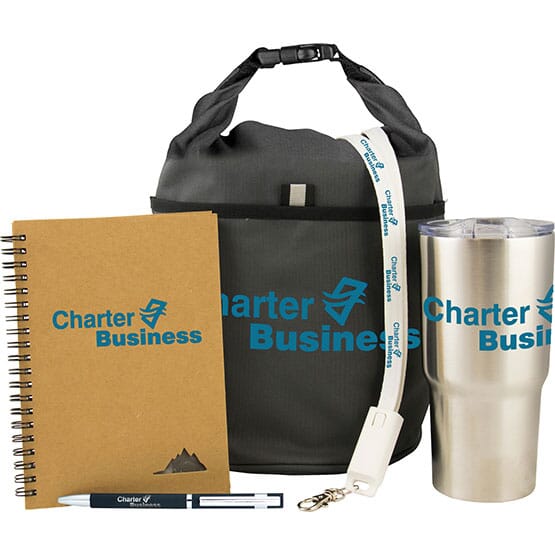 Welcome kits with logos are a natural for onboarding. During this era of frequent work from home scenarios, it can be especially challenging to make new team members feel included in the corporate culture. Our classic Onboarding Kit is sure to impress new hires, with a lunch bag, 25 oz drink bottle, super glide pen, spiral notebook and smartphone wallet. Another popular option: the Corporate Onboarding Kit, with lunch bag, stainless tumbler, pen, notebook, and charging cable/lanyard. Both kits are great ways to say welcome to the team!
Distance Learning Kits K-12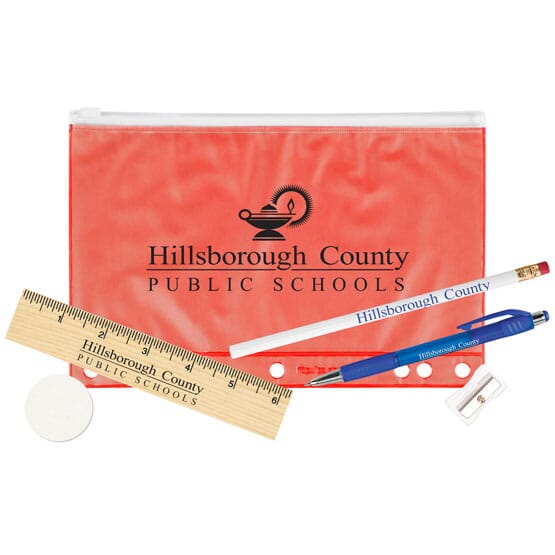 For schools that want to assist families learning-at-home, you can move your school logo to the head of the class with the gift of an imprinted learning kit. The School From Home Kit 1 features a drawstring bag canvas-bound journal, stylus/pen/highlighter and water bottle. Our School Necessities Kit contains (you guessed it) all the essentials: pencil pouch pre-punched for binders, pencil, pen, ruler and pencil sharpener.
College School Spirit Care Packages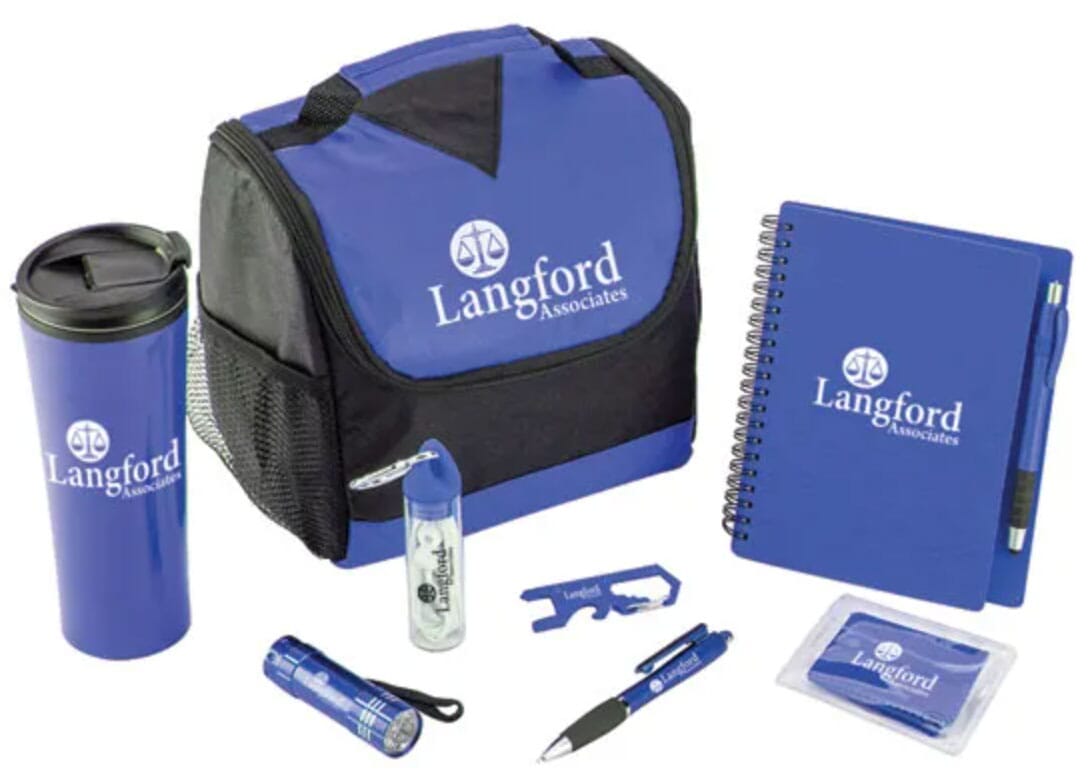 Bank Express offers a wide range of promotional items for college students, including logo apparel such as caps, hoodies and sweatshirts. To start new students off in style, try the Kickstarter School Kit, a drawstring backpack with water bottle, stylus pen, mousepad and earbuds. To give students an energy boost, consider the Large Stretchy Power Kit, with useful items such as a power bank, USB wall charger, USB car charger, and more. More elaborate still is the Great 8 Essential Gift Set, a lunch bag with flashlight, earbuds, tumbler and other important items.
Bank Express is helping universities and colleges build and renew the spirit of their graduating seniors. For students who can't attend graduation, a swag back sent to their homes will help them commemorate this momentous event — The Future Is Now Kit and the Terrific Trio accomplish that goal especially well.
Trade Show & Event Swag Bags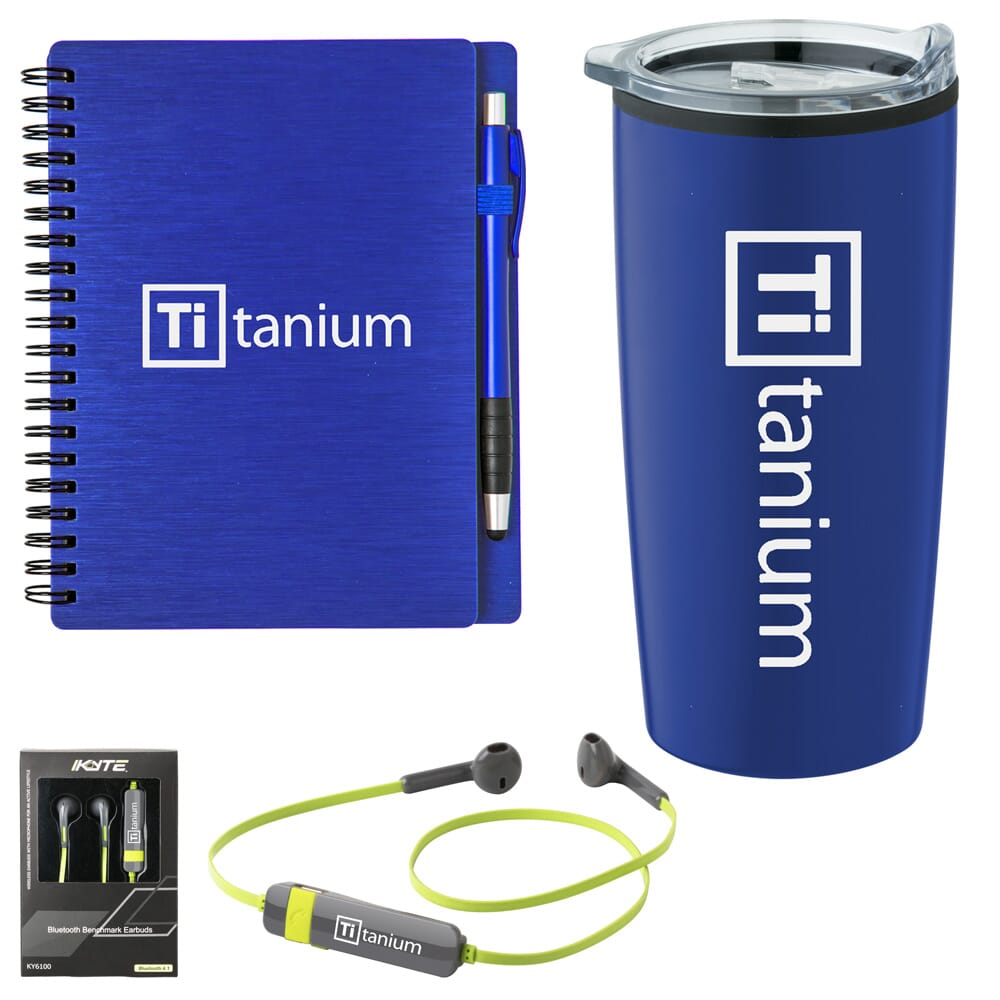 The Triple Play swag bag is one of our all-time top sellers, with a logo cotton tee, water bottle and drawstring bag. It's simple but serious fun, with 18 color combinations to choose from. The Triple Play will hit a home run with all your event attendees!
Virtual events have exploded since COVID-19, but event swag can (and should) continue to be part of the promotional equation. Event kits such as our Conference at Home Kit are tailor-made for virtual event giveaways — and Bank Express can take care of delivering your logo kits directly to your recipients' homes.
Corporate Holiday Gifts for Employees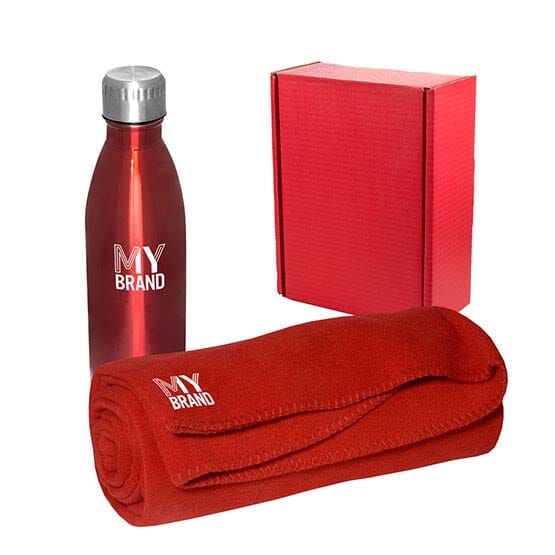 Corporate care packages make excellent choices for holiday gift-giving. Imagine your employees nestled around the fire with the Evening-In Winter Gift Set, a cozy creation that includes a logo fleece blanket and logo insulated bottle in a decorative holiday gift box. Another popular company care package: the Ridge 3-Piece Lunch Set, with a cooler bag, plastic container and infused water bottle.
For more ideas and inspiration, browse our kits and bundles digital catalog or shop our full custom kit selection.
Need Help?
If you're still not sure which Bank Express swag bag, kit or bundle will work best for you, or if you want to discuss particulars of imprinting or place an order, please contact us online, chat in or call us now at 1-800-244-9402.
You May Also Be Interested In: