This Week's Top Promotional Products Trends –

June 3, 2020
published: June 3, 2020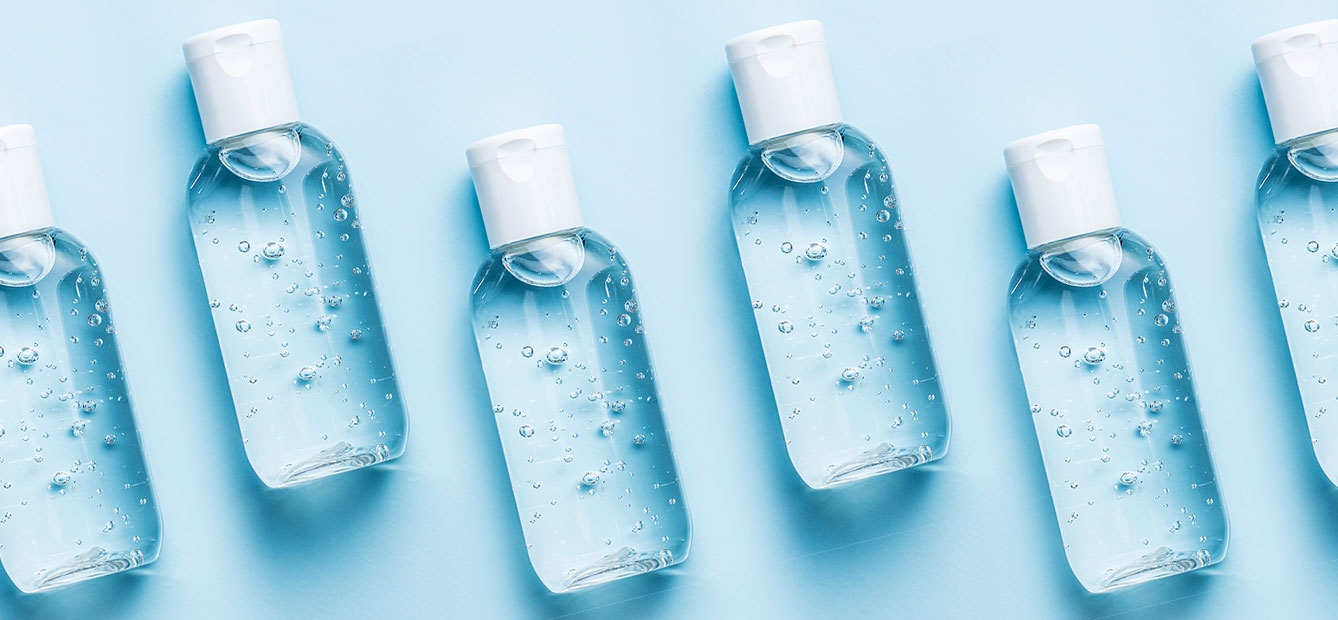 Bank Express is working nonstop to source and obtain Personal Protective Equipment (PPE). We are adding new items each day, including face masks, thermometers, gloves, and hand sanitizers. Hand sanitizers continue to be one of the most sought-after commodities on the market. While all PPE continues to dominate within the Promotional Products Industry, we did see a spike in the sale of hand sanitizers last week.
In working with our customers, our sales team noticed a quantifiable shift in the types of sanitizers we are selling. We unquestionably saw an increase in the sale of pocket-size sanitizers, UV sanitizers, and sanitizer stations.
Convenience is king in our society. We, as a country, are continually looking for the next product that can save us time. In the business world, saving time often also means saving money. That's why it is not a surprise that we have had such a large demand for our imprinted pocket-size sanitizers. Last week our Sani-Spray Pen was our best-selling item. These sanitizers are designed to fit into pockets or can easily be clipped to clothing, with the provided lanyard hook, for easy access. Customers consistently rate this product with 5-stars, noting how easy they are to use. Another excellent option for on-the-go sanitizing is our Clear Sanitizer with Carabiner. This new item allows users to keep their sanitizer close-at-hand. We had two customers last week, one in the restaurant industry and the other in finance, tell us that they were buying these as a way to simplify their sanitization practices. Both planned on providing personal sanitizers to their workforce as a way to save time, as they will no longer need to be running back and forth to a communal sanitizer bottle. For companies looking for slightly more sanitizer per product, we are recommending the 4oz Gel Sanitizer Bottle. Several delivery centric businesses have purchased these for drivers to keep in their trucks and sanitize after each delivery. As an extra benefit, most of the sanitizer bottles are refillable. The 1 Gallon Gel Hand Sanitizer is a smart add on to any sanitizer order as a way to refill bottles.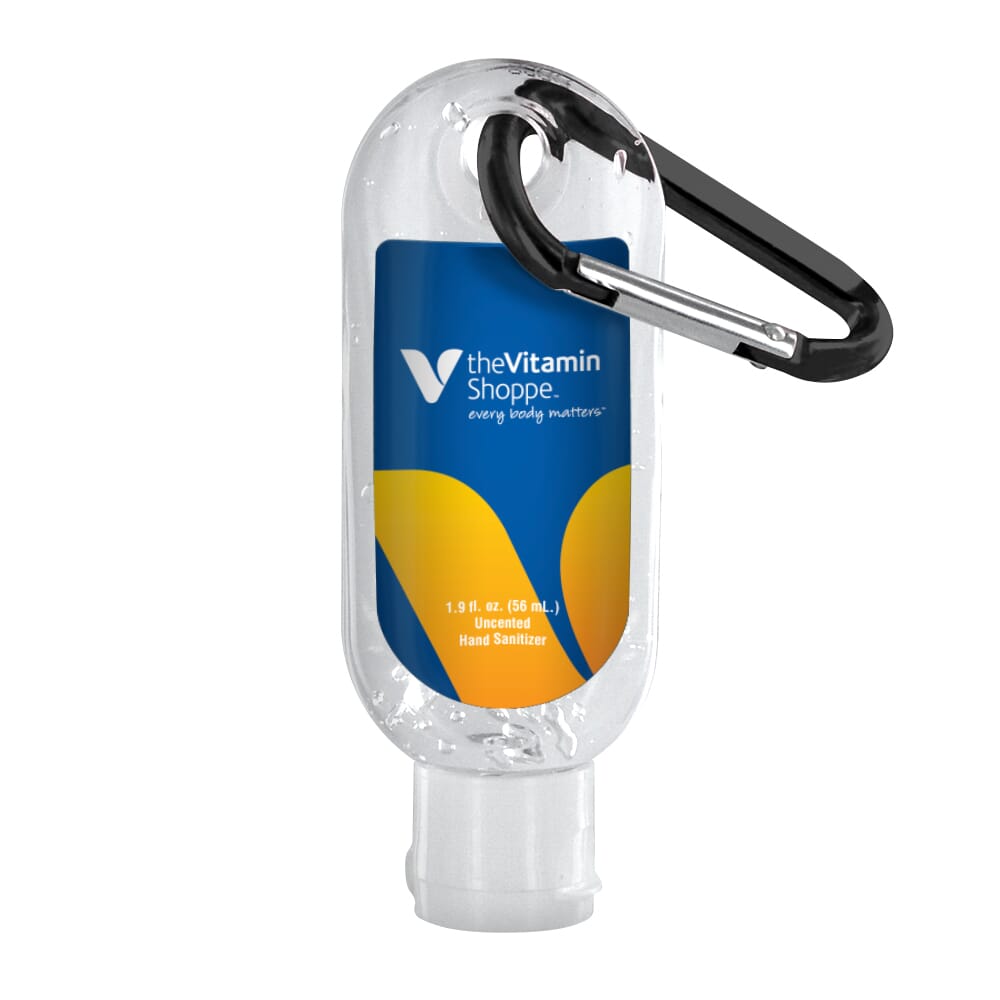 Cell phones are crawling with bacteria, 25,127 bacteria per square inch, to be precise, according to State Food Safety, a leader in restaurant and hospitality food safety. The next three most bacteria-infected objects are doorknobs, checkout screens, and counters. These levels of bacteria are why we're seeing more customers add UV Sanitizers to their sanitation arsenal. This method of using light as a means of cleansing is an efficient way to sanitize the most often touched surfaces and possessions that works in minutes. UV Light Sterilizing Wands kill germs in seconds on high traffic surface areas like doorknobs, keyboards, checkout screens, and desk phones. For smaller, yet still exposed items, we recommend the Phonesoap® UV Cleaner and Charger. These cases sanitize cell phones in minutes and can also cleanse watches, rings, keys, credit cards, and ID badges. For companies looking for a product to disinfect larger items such as tablets and small computers, we recommend the UV Tech Sanitizer & Charger. Bonus both the Phonesoap and Tech sanitizers double as phone chargers.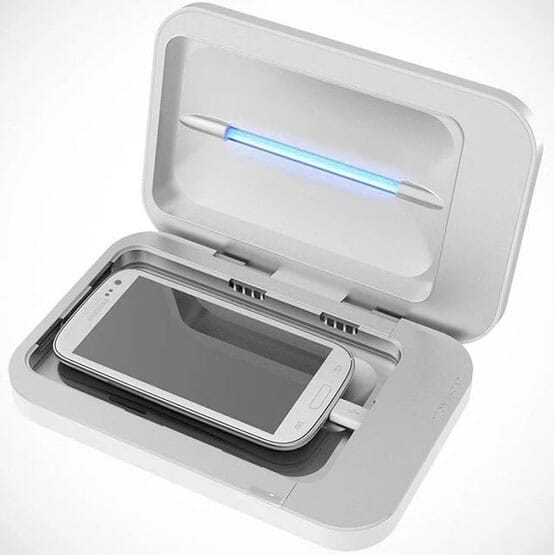 Placing sanitizer stations in high-traffic areas is an effective way to combat the spread of germs. They work great in entryways, hallways, near bathrooms, common areas, and breakrooms as a touch-free means to hand cleansing. One customer last week bought a few of the Bannitizer® Sanitizer Stations for the walkways in the lobby of the building where his office is. He noted it was a great way to promote his business and further associate his brand with a commitment to health and wellness. He also stated that he plans to use them at tradeshows when those types of events start to happen again. We also sold a few of our smaller Sanitizer Stations to car dealerships, daycare centers, and real estate agencies. Unlike most products in the promotional products industry, all the Bank Express sanitizer station options have low quantity minimums, 1 to 6.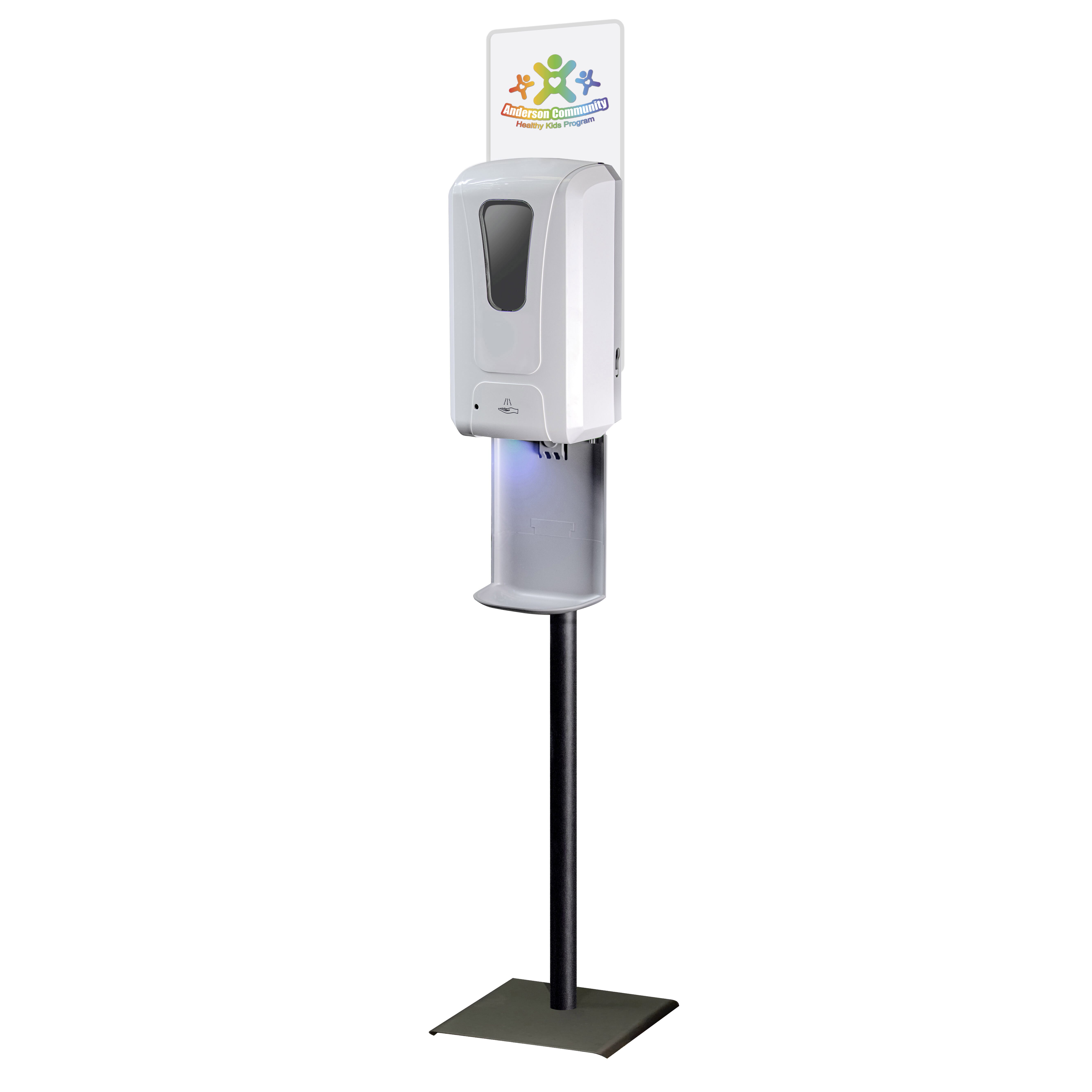 There are so many sanitizer options to choose from; it can get confusing knowing what the right choice is. If you're looking to understand all the differences and make the best decision for your business, check out our Custom Hand Sanitizers Guide. If you need additional help or want to talk to one of our sales representatives, give us a call, 866-488-4975, we are here and happy to help steer you in the right direction.
Employee Review of the Week: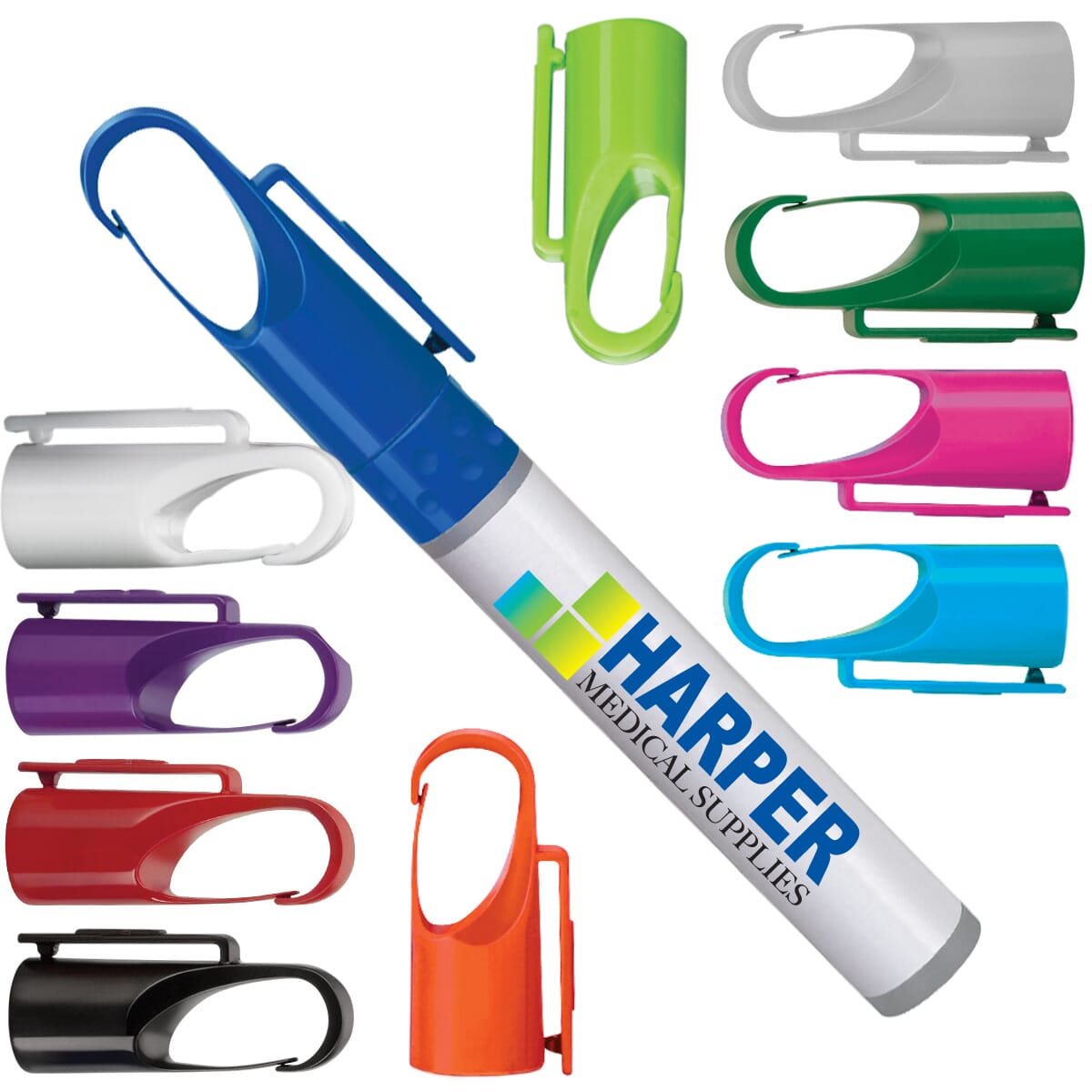 "I would say I use the Sani-Spray Pen more than any other product. I practically have one on me at all times. I keep at least one in my purse, one clipped to my gym bag, one in my glove compartment, and several in my desk drawer. It just makes me feel better knowing I can clean my hands whenever I want. And I love the smell of the citrus breeze pens." – Tabatha White, Account Manager