This Week's Top Promotional Products Trends –

May 19, 2020
published: May 19, 2020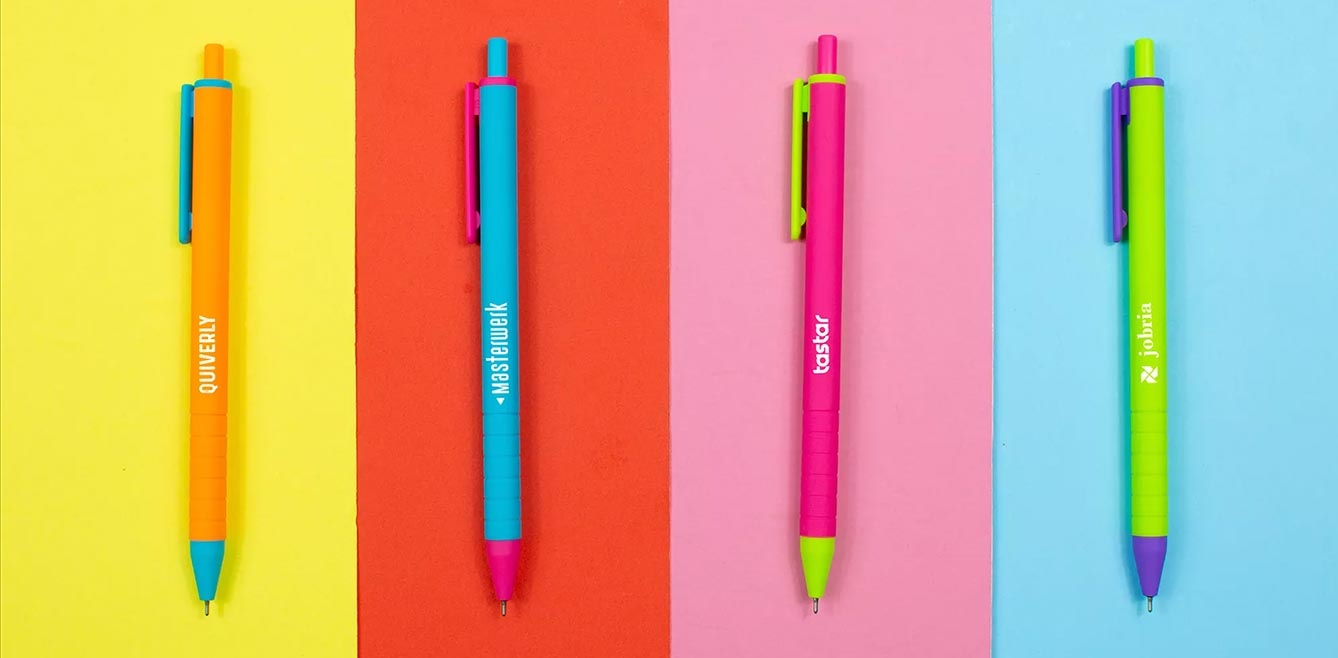 Last week, according to Google Trends, marked the highest recorded searches for promotional marketing products since early March. This week, unlike the past few weeks where personal protective equipment (PPE) dominated top selling items, the drinkware and pens categories saw a lift.
The drinkware category traditionally performs very well in the promotional products industry, but it, like most products, has seen a reduction in sales volume in the last few months. That said, beer and wine products have benefited from the surge in virtual happy hours. These social events have seen a 296% increase since early March. Companies are taking advantage of this trend and using it as an opportunity to help employees feel connected. It is easy to assume that virtual happy hours are more of a personal event and not a work-related phenomenon, but data shows us that is not the case. In a recent survey, 34% of participants said they are socializing more with their coworkers. This trend is not concentrated in one industry; the top two sectors participating in work happy hours are finance and engineering.
We have several customers that are designing wine and beer glasses to send to their employees for these events. Some are going the traditional route of putting their logos on the glasses, while others are using this space to imprint fun and relevant sayings and quotes. No one way is better than the other; what matters is the ability to connect with your team in a way you hadn't before. An extra bonus to these products is that your team can use them during their personal virtual happy hours, which 55% of them are having, so their friends and family are exposed to your company. Check out our wine gallery for inspiration for quotes and sayings you can use. Want a saying specific to you? Contact our sales reps, and they'd be happy to brainstorm for you.
Writing instruments, particularly pens, remain a best-selling item. This fact in itself may not be surprising, as they are one of the most affordable and functional promotional products. But an in-depth look into the exact pens that are selling revealed a clear trend – color. The MaxGlide Click Pen – Carnival Colors, Starlight Highlighter Stylus Pen, and Supersmooth Pen ranked as the top items sold within this category last week. All of these pens provide a smooth writing experience, but it's more than that, their bright colors make them not only appealing but coveted. Our customers tell us that they can't keep bright pens in stock; people are always making off with them.
Another common theme we are hearing from those buying pens is that they are trying to stop the spread of illness any way they can, including providing individual pens to employees to keep instead of shared communal pens. The average office pen has 200 bacteria per square inch on it. With the focus on germs, the need for more pens is only going to increase. One other way to help stop the spread of germs is to invest in antibacterial and antimicrobial pens. These types of pens have an EPA registered antimicrobial additive molded directly into them. They help suppress the growth of bacteria, molds, mildew, and fungi.
Lastly, we would be remiss if we did not mention that PPE continues to be a top-selling category. That said, we have seen a noticeable shift in the number of companies purchasing imprinted PPE. Companies, across all categories, are buying imprinted masks, sanitizers, thermometers, and counter and sneeze guards.
Customers seem to share a similar opinion that imprinted PPE is not only a promotional vehicle but helps send a clear message that they care and are doing whatever it takes to keep employees and customers safe.
Employee Review of the Week:
"I'm obsessed with the Napa Stemless Wine Tumbler. I've got 2 or 3 that I use all the time. I love them so much that earlier this month, I ordered them and sent them to my family. We all used them on a virtual get together. I used the Stay Calm and Quarantine On design with the toilet paper. It was such a hit. My sister-in-law reached out because her friends wanted to know where they could get one." - Pam Delcourt, Bank Express Sales Supervisor