Six Must-Haves for Your Next Trade Show Booth
published: December 10, 2019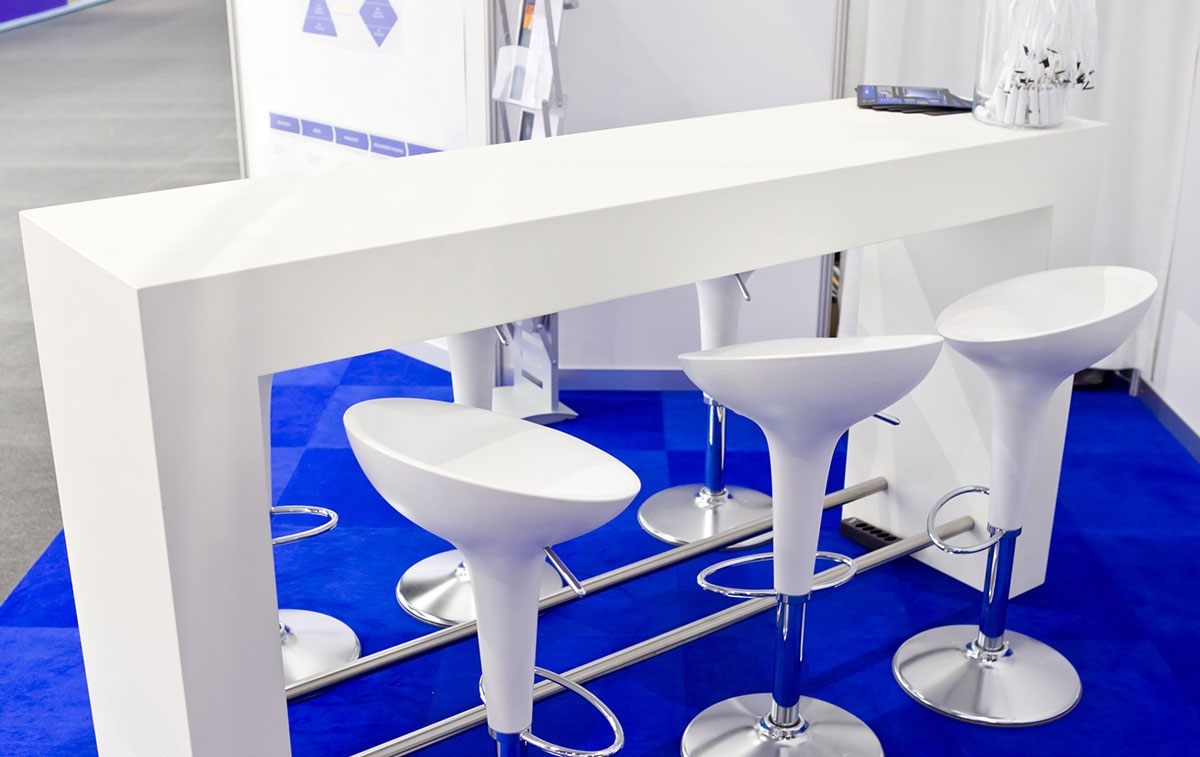 Whether it is your first or your fortieth trade show, you'll want to try to attract as much attention as possible to your booth or conference table. Here is a list of six conference display must-haves and trade show booth ideas that will get you on your way toward a successful event experience.
1. Trade Show Displays

Since you only get one chance to make a first impression, the visual design of your trade show booth will be your best opportunity to make it a good one. Choose a custom trade show display that not only is visually interesting, but also tells passersby a little bit about what your organization is all about. Some types of displays for you to consider:

Tabletop displays come in a range of sizes and are designed to be placed on top of the trade show or conference table themselves. Tabletop displays tend to be lightweight, easy to set up, take down, and transport. The Bank Express team chose a trifold display to show what our brand has to offer for at the 2019 Agents of Change Digital Marketing Conference in Portland, Maine.

Trade show banners, also known as graphic displays, come with and without stands. They can be placed behind your booth, attached to the front of your table, or placed on a stand to one side. Banners are a great way to showcase your brand's logo, message, as well as eye-catching graphic designs.

Display kits are bundles of trade show essentials, such as banners, frames, stands, and more. Also lightweight, they are easy to assemble, transport, and store.

2. Table Covers and Runners

Most conferences and trade shows provide a table with a white table cover and two chairs. Brighten things up with your logo and brand colors by adding a custom table cover and table runner. Want to ensure that your table cover looks fresh and ready to display? Check out these tips for caring for your custom table cover.

3. Apparel: Create a Branded Look

Send your representatives in branded imprinted apparel for a unified, professional look. Custom polos, and embroidered dress shirts and vests all make great choices for apparel. Learn more about the importance of dressing for success in What to Wear to a Conference: The Ultimate Guide.

4. Trade Show Giveaways

The importance of having fun, eye-catching, and useful tradeshow giveaways to hand out to everyone who stops by your booth should not be minimized. These will be visual reminders of your brand, and when you choose wisely, recipients will keep them and use them, widening your promotional reach even more!

Stay on top of what's trending in promotional products and give recipients things that are all the rage right now, such as custom water bottles and travel mugs, as well as branded tech accessories.

At the recent digital marketing conference, Bank Express' team handed out a hugely popular tech item to recipients- PopSockets® phone grips - and they were a hit! In addition to PopSockets®, we also gave away padfolios, pens, and hand sanitizer.

As a benefit of being a conference sponsor, Bank Express was given several free passes to attend the event, as well as the opportunity to co-brand two items in the conference swag bag, which were handed out to all attendees. With guidance from Bank Express' promotional products experts, conference organizers chose Charging Cable Key Chains and Custom Printed Water Bottles.

As you can see, participants started using the branded water bottles right away, filling them up with cold water throughout the day of the event, a sure sign that this item resonated with recipients and will likely get used again and again in the future.

5. Catalogs/Marketing Materials

Make sure to bring enough business cards, brochures, and other marketing materials to your conference to hand out to everyone you connect with, as this is how leads are generated! Don't forget to reach out to other sponsors and exhibitors too, as they may also be interested in the goods or services that your company offers. You can also give away custom reusable tote bags for attendees to put these items in, which will mean additional exposure for you!

6. Interactive Displays

When at all possible, come up with an interactive display or a product demonstration to engage with conference and trade show participants. Much more interesting than static displays, set up a tv with a video playing that shows what your business has to offer, plan a contest or game to get people to come over and see what the fun is all about, or have products on display that people can look at, touch and use. For example, the Bank Express table attracted may curious people who wanted to know what PopSockets® are used for and how to use them.
For more information on planning a successful Trade Show Booth, visit:
Everything You Need to Know About Ordering Custom Trade Show Table Covers
Trade Show Checklist: The Complete Guide to Trade Show Planning