Top in Tech for 2020
The Best Promo Items for Gifts & Giveaways
published: January 31, 2019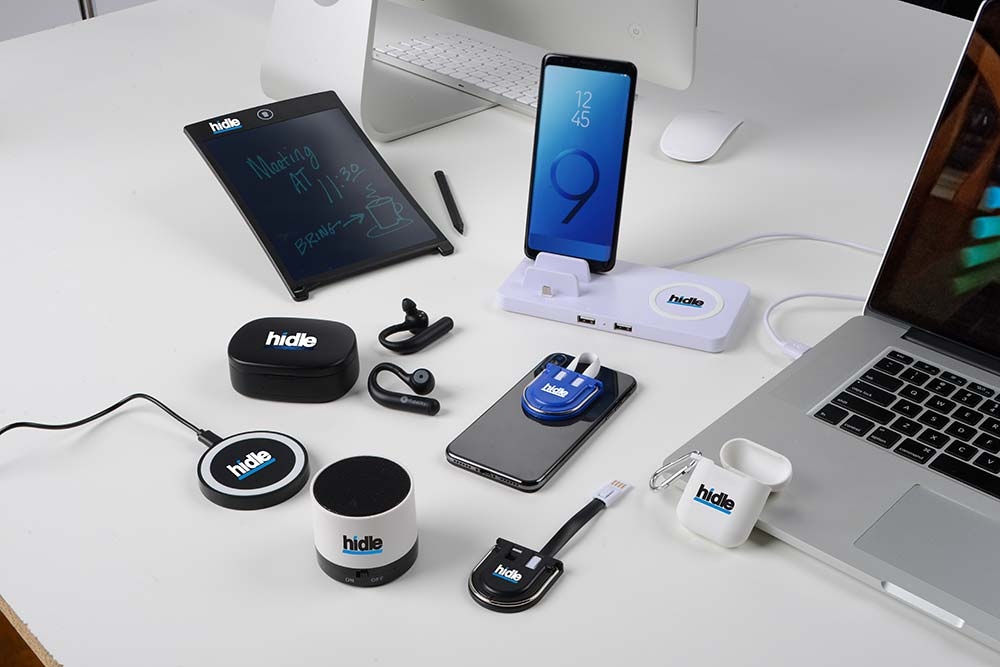 As we head into the new year and a new decade, the overarching theme of tech can be summarized as "powering life on the go." Gone are the days of fumbling over tangled power cords and wired headphones and toting bulky chargers or spare batteries. As consumers, we now seek tech accessories to support our active lifestyle, that empower us to move about our day freely while maintaining the constant virtual connection we have grown to crave.
Power
According to RescueTime's 2019 Screen Time Stats Report, most people on average spend 3 hours and 15 minutes on their phones per day. Additionally, the study found that users check their phones an average of 58 times a day with 30 check-ins happening during the traditional working hours of 9am–5pm. With this much use, portable yet powerful tools to keep these mobile devices charged are hot commodities.
Product Recommendation: Power Bank

Have you ever experienced a moment of panic when you see your phone battery drop below 10% in the middle of a busy day? You don't have time to dig in your bag for a charger, find an electrical outlet, and sit next to it waiting for your phone to charge. Enter: the portable power bank.

The 2200 mAh UL Listed Jolt Power Bank is sleek and super small. At less than 4" long and 1" wide, it can literally fit in your pocket. It charges at the same speed as most wall chargers and has enough battery life to fully charge an iPhone. This can give you as much as 8 hours of additional talk time! The Jolt Power Bank comes in a wide range of colors and can be personalized with your brand's logo. A custom phone accessory this handy is certain to be appreciated and used frequently.

Product Recommendation: Wireless Charging Pad

With a wireless charging pad, you will never again be restricted by the length of your charging cable. Simply set your phone on the charging pad while working or studying, pick it up when you need to use it, and set it back down to continue the charge. The pad even works while keeping a protective plastic case on the phone.

The Tiki Natural Wood Qi Charger brings a calming, natural element to any desk or table where it is used. Laser engraved with your logo, recipients will associate your brand with elevated practicality.
Audio
Smartphones have become the primary method through which most individuals consume media. Consider the following:
The numbers speak for themselves. Whether a smartphone user prefers to watch video, listen to music or podcasts, or seeks privacy for frequent phone calls, there is a demonstrated need for high-quality audio devices to keep up with this level of utilization.
Product Recommendation: Headphones & Ear Buds

If you want to watch a video or listen to music on your smartphone in public without creating enemies, you're going to need some headphones or earbuds.

Making their debut in the promotional products industry for 2020, Skullcandy is an audio brand is known for their incredible sound quality, comfort, and durability. Built to keep up with extreme athletes, every model is meant to be "used and abused" for years to come. Skullcandy has a style for everyone, whether you prefer over the ear headphones or ear buds. Listen at school, the office, the gym, or anywhere your adventures take you.

The Skullcandy Cassette Bluetooth Headphones are an affordable over the ear option. Built-in controls make it easy to control the volume, skip to the next song, or answer a phone call. In just 10 minutes, the Cassette headphones can fully charge for 2.5 hours of playback time. This pair also collapses for easy storage, making it the perfect pair to gift a commuter or frequent flyer.

If you prefer a more minimal earbud design, consider the Skullcandy Sesh Truly Wireless Earbuds. In addition to built-in controls and the charging case's impressive 7 hours of playback time, this pair stands out for their IP55 Water resistant rating. They can survive getting caught in a rainstorm or a particularly sweaty gym session with no functional issues. These are a particularly thoughtful gift for the outdoorsman or athlete in your life that you want to recognize.

Product Recommendation: Bluetooth Speaker

You might find yourself in a different scenario, one where you do want everyone around you to hear what your device is playing. Portable Bluetooth speakers allow you to take your music anywhere you want to go--perfect for a backyard party, camping, a day at the beach, or even around the house. Connect to your phone or computer without any cords and stream your favorite playlist.

Bank Express has a quality Bluetooth speaker option for every budget. For an employment anniversary gift or to celebrate a major achievement, choose an upscale option like the ifidelity Sound Design Bluetooth Speaker. For a smaller gift or giveaway, choose an affordable option like the Illuminated Logo Bluetooth® Speaker. Decorate the speaker grill or body with your logo, and the recipient will think of you every time they listen.
For more crowd pleasing, up to the minute technology swag ideas, check out: