Make Prospective Students Feel Welcome
published: May 26, 2019 | updated: October 7, 2019
Students today have more options to weigh than ever before. Besides wondering whether a traditional or non-traditional college is right for them, they must decide whether they'll obtain their degree online or on a campus. They must also decide whether they'll follow in their parents' footsteps or forge their own path. With so much to consider, students are looking for colleges where they feel like they can belong. Bank Express' wide assortment of unique promotional items are a great way to help these students remember your school.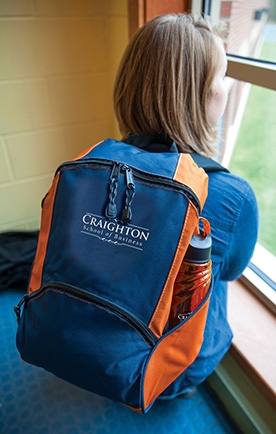 There are a variety of customized promotional items uniquely suited to inspire loyalty. These are products that prospective students will use everyday and therefore, will help remind them that they really do belong with your school. Promotional key rings, tote bags and pens are just a few of these useful items. Bank Express' professional art prep services help make these practical items unique. Promotional products from Bank Express are guaranteed for workmanship and quality, which means we follow your directions to the letter. With Bank Express on your side, you know that your recruiting event will have the imprinted products necessary to inspire prospective students.
Start your search for the perfect items for your recruitment events. Consider placing your college name or logo on the following products:
Promotional Logo Keychains: Bank Express makes these college recruitment items unique by offering an assortment of colors that help students take their identification, and your school's mascot, wherever they go!


Custom Imprinted Bags: These unique promotional items allow your college to proudly display its name while helping students carry their belongings. Bank Express offers an assortment of bag styles, including the popular duffel, sport, and tote varieties, that help prospective students walk away in style from your recruitment event.
In addition to these imprinted products, Bank Express offers a wide assortment of other items that promote your school in interesting ways. Contact us today to talk with a customer service representative about our wide selection of products. Our friendly staff takes pride in helping you find the unique items it needs to promote a sense of loyalty and pride at your college.